Too Big to Know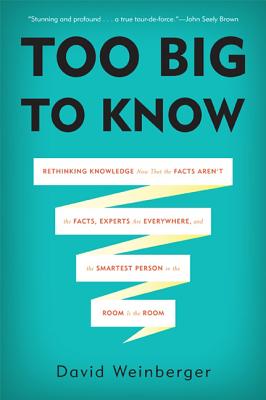 Too Big to Know
Rethinking Knowledge Now That the Facts Aren't the Facts, Experts Are Everywhere, and the Smartest Person in the Room
Basic Books (AZ), Hardcover, 9780465021420, 256pp.
Publication Date: January 3, 2012
* Individual store prices may vary.
Buy at Local Store
Enter your zip code below to purchase from an indie close to you.
or
Buy Here
Description
We used to know how to know. We got our answers from books or experts. We'd nail down the facts and move on. But in the Internet age, knowledge has moved onto networks. There's more knowledge than ever, of course, but it's different. Topics have no boundaries, and nobody agrees on anything.
Yet this is the greatest time in history to be a knowledge seeker . . . if you know how. In Too Big to Know, Internet philosopher David Weinberger shows how business, science, education, and the government are learning to use networked knowledge to understand more than ever and to make smarter decisions than they could when they had to rely on mere books and experts.
This groundbreaking book shakes the foundations of our concept of knowledgefrom the role of facts to the value of books and the authority of expertsproviding a compelling vision of the future of knowledge in a connected world.
About the Author
David Weinberger is the co-author of the international bestseller "The Cluetrain Manifesto" and the author of "Small Pieces Loosely Joined". A fellow at Harvard University, Weinberger writes for such publications as "Wired" and the "Harvard Business Review" and is a frequent commentator for NPR s "All Things Considered". In 1994, he founded Evident Marketing, a strategic marketing firm on technology issues. He lives in Boston.
Praise For Too Big to Know…
Marc Benioff, chairman, CEO salesforce.com, bestselling author of Behind the Cloud
"Led by the Internet, knowledge is now social, mobile, and open. Weinberger shows how to unlock the benefits."
John Seely Brown, co-author of The Social Life of Information and A New Culture of Learning
 "
Too Big to Know
is a stunning and profound book on how our concept of knowledge is changing in the age of the Net. It honors the traditional social practices of knowing, where genres stay fixed, and provides a graceful way of understanding new strategies for knowing in today's rapidly evolving, networked world. I couldn't put this book down. It is a true tour-de-force written in a delightful way." 
Daniel H. Pink, author of Drive and A Whole New Mind
"With this insightful book, David Weinberger cements his status as one of the most important thinkers of the digital age. If you want to understand what it means to live in a world awash in information,
Too Big to Know
is the guide you've been looking for." 
Tony Burgess, Cofounder, CompanyCommand.com
"David Weinberger's
Too Big to Know
is an inspiring read—especially for networked leaders who already believe that the knowledge to change the world is living and active, personal, and vastly interconnected. If, as David writes, "Knowledge is becoming inextricable from—literally unthinkable without—the network that enables it" our great task as leaders is to design networks for the greater good. David casts the vision and gives us excellent examples of what that looks like in action, even as he warns us of the pitfalls that await us." 
David S. Ferriero, Archivist of the United States
"
Too Big to Know
is a refreshing antidote to the doomsday literature of information overload. Acknowledging the important roles that smart mobs and wise crowds have played, David Weinberger focuses on solutions to the crisis in knowledge—translating information into new knowledge by exploiting the network.  Based upon the premise that 'knowledge lives not in books, not in heads, but on the net,' Weinberger outlines a bold net infrastructure strategy that is inclusive rather that exclusive, creates more useful information—metadata, exploits linking technologies, and encourages institutional participation.  The result is a network that is both 'a commons and a wilds' where the excitement lies in the limitless possibilities that connected human beings can realize." 
Clay Shirky, author of Here Comes Everybody and Cognitive Surplus
"
Too Big To Know
is Weinberger's brilliant synthesis of myriad little debates—information overload, echo chambers, the wisdom of crowds—into a single vision of life and work in an era of networked knowledge."