Interop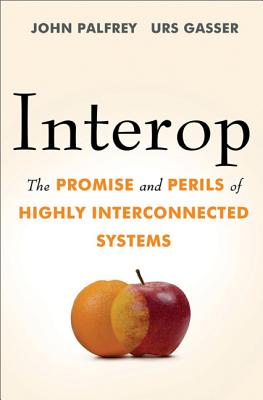 Interop
The Promise and Perils of Highly Interconnected Systems
Basic Books (AZ), Hardcover, 9780465021970, 296pp.
Publication Date: June 5, 2012
* Individual store prices may vary.
Buy Now
or
Shop Local
Enter your zip code below to purchase from an indie close to you.
Description
In "Interop," technology experts John Palfrey and Urs Gasser explore the immense importance of interoperabilitythe standardization and integration of technologyand show how this simple principle will hold the key to our success in the coming decades and beyond.
The practice of standardization has been facilitating innovation and economic growth for centuries. The standardization of the railroad gauge revolutionized the flow of commodities, the standardization of money revolutionized debt markets and simplified trade, and the standardization of credit networks has allowed for the purchase of goods using money deposited in a bank half a world away. These advancements did not eradicate the different systems they affected; instead, each system has been transformed so that it can interoperate with systems all over the world, while still preserving local diversity.
As Palfrey and Gasser show, interoperability is a critical aspect of any successful systemand now it is more important than ever. Today we are confronted with challenges that affect us on a global scale: the financial crisis, the quest for sustainable energy, and the need to reform health care systems and improve global disaster response systems. The successful flow of information across systems is crucial if we are to solve these problems, but we must also learn to manage the vast degree of interconnection inherent in each system involved. Interoperability offers a number of solutions to these global challenges, but Palfrey and Gasser also consider its potential negative effects, especially with respect to privacy, security, and co-dependence of states; indeed, interoperability has already sparked debates about document data formats, digital music, and how to create successful yet safe cloud computing. "Interop" demonstrates that, in order to get the most out of interoperability while minimizing its risks, we will need to fundamentally revisit our understanding of how it works, and how it can allow for improvements in each of its constituent parts.
In "Interop," Palfrey and Gasser argue that there needs to be a nuanced, stable theory of interoperabilityone that still generates efficiencies, but which also ensures a sustainable mode of interconnection. Pointing the way forward for the new information economy, "Interop" provides valuable insights into how technological integration and innovation can flourish in the twenty-first century.
About the Author
John Palfrey is the author or coauthor of several books, including Born Digital, Intellectual Property Strategy, and Interop. He is Head of School at Phillips Andover Academy and led the effort to reorganize the Harvard Law School Library. John lives in Andover, Massachusetts.


Praise For Interop…
Science
Interop will serve as a constructive and motivating resource for policymakers, citizens, and practitioners interested in the outcome of emerging, hyper connected areas such as smart-grid energy infrastructures, cloud computing, and eHealth systems or in ensuring our ability to preserve digitally stored culture and knowledge for generations to come."

Chris Hughes, Publisher and Editor-in-Chief of The New Republic and co-founder, Facebook
This is one of the few great books that theorizes the opportunities and pitfalls of a complex networked world while remaining accessible to anyone curious about how to manage these technologies for the sake of human progress."
Jonathan Zittrain, author of The Future of the Internet And How to Stop It
Interop
represents a peerless contribution for understanding interconnected systems. Palfrey and Gasser draw on sharp examples, illustrations and case studies to show how the world we live in is becoming increasingly interdependent, and they offer a compelling roadmap for both consumers and producers to adapt to it." 
Joi Ito, Director, MIT Media Lab

In
Interop
Gasser and Palfrey propose a unified theory of interoperability drawing on a myriad of examples to bring together a framework around an idea where heated debates, lawsuits and multi-billion dollar battles have been waged on a variety of complex and incomplete arguments.
Interop
pulls these arguments together into a nuanced but elegant framework, including suggestions on how we might design an architecture and practices to create optimal interop. This book is a must-read for policy makers, corporate leaders, academics and anyone hoping to live and thrive in our exceedingly interop-driven connected and complex world." 
Vivek Kundra, Executive Vice President at Salesforce and Former CIO of the United States

Interop
is a must read for leaders in the public and private sector as they try to harness the power of highly interconnected systems while balancing the dark side of technology.  The ability of billions of people to instrument the world and share their experiences in a low-cost manner has forever shifted power away from the hands of the few to the network."
Nature
Palfrey and Gasser have a record of tak­ing up a concept early and writing about it accessibly and informatively. [They] are at their best when discussing how regulation and legislation can promote interoperability. This issue, the authors stress, is not about making systems the same, but about main­taining diversity while identifying key areas of contact: an important point well made."
New Scientist
Clear and thoughtful. [Palfrey and Gasser's] writing is light but careful; their arguments are illuminating."
Publishers Weekly
 In this timely treatise, Palfrey and Gasser insist that interoperability is a crucial means of understanding cultural transformations."
Library Journal
[If] you haven't yet read [
Interop
], you should, since it discusses subjects that are the life's blood to librarians (and many others) in the 21st century. Well-researched and a pleasure to read."
Times Higher Education Supplement
A thorough, thoughtful and timely analysis of where we are, how we got here and where we might be headed if we want to get the maximum benefit from interoperability without paying too high a price in the process."
Slate, Future Tense
Palfrey and Gasser nicely toe the line between digital dystopians and globalization shillsthey're forward-looking but pragmatic."