Snoop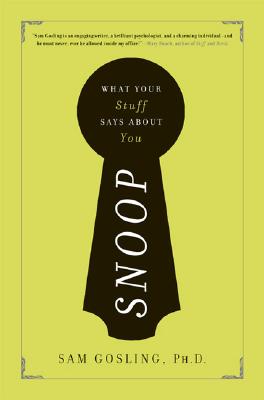 Snoop
What Your Stuff Says About You
Basic Books, Hardcover, 9780465027811, 272pp.
Publication Date: May 1, 2008
* Individual store prices may vary.
Buy at Local Store
Enter your zip code below to purchase from an indie close to you.
or
Not Currently Available for Direct Purchase
Description
A provocative and witty look at how our private spaces-from boardroom to bedroom-reveal our personalities, whether we know it or not
About the Author
Sam Gosling is an associate professor of psychology at the University of Texas at Austin. He has spent the last decade conducting research on how personality is expressed and perceived in everyday contexts. He has been profiled by the New York Times, Psychology Today, and other publications, and he is featured in Malcolm Gladwell's Blink. This is his first book. He lives in Austin, Texas.
Praise For Snoop…
"Gosling's work, reminiscent of Martha Stout's The Sociopath Next Door in its vivid, true-to-life portraits of people and places, is a unique blend of scholarly research and accessible vignettes. Expect future books from this young scholar, whose storytelling skills prove he's capable of bridging the gap between ivory-tower dwellers and street denizens."–Library Journal, starred review


"Gosling, a psychology professor, shows us how the bits and pieces of our everyday lives can reveal more than we ever imagined. Did you know that the stuff you keep on your desk can tell a shrewd observer not just your likes and dislikes, but also your political leanings, your sexual interests, your fears, even your secret self-image (as opposed to the version of yourself you present to the world)?"–Booklist

"The basic premise behind "Snoop" is that you can tell an awful lot about a person based on their apartment; their work space; their favorite music; their style of dress - even their trash. (Gosling approvingly quotes Ward Harrison, a professional scavenger who made a career rummaging through the trash of celebs, who once said, "Garbage is a window into the soul.") This thesis puts "Snoop" firmly in "Blink" or "Freakonomics" territory."–New York Post


"Gosling's entertaining and very informative guide to personality and social research should be an occasion of joy for teachers."—The Journal of Social Psychology