Hitler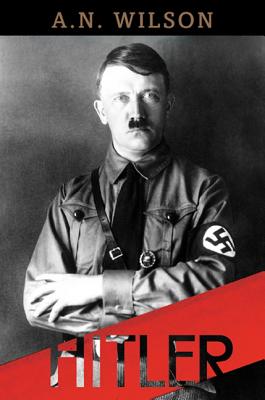 Hitler
Basic Books, Hardcover, 9780465031283, 224pp.
Publication Date: March 27, 2012
* Individual store prices may vary.
Buy at Local Store
Enter your zip code below to purchase from an indie close to you.
or
Buy Here
Description
er's unlikely rise to power and his uncanny ability to manipulate his fellow man resulted in the deaths of millions of Europeans and a horrific world war, yet despite his colossal role in world history, he remains mythologized and, as a result, misunderstood. In Hitler, A.N. Wilson limns this mysterious figure with great verve and acuity, showing that it was Hitler's frightening normalcy--not some otherworldly evilness--that makes him so truly terrifying.
About the Author
A.N. Wilson is a renowned British journalist and author. He is the author of several acclaimed biographies, including Tolstoy, C.S. Lewis, Jesus, and Paul. He taught for seven years at Oxford before becoming a journalist. A frequent contributor to the Daily Mail, the Times Literary Supplement, New Statesman, The Spectator, and The Observer, Wilson lives in London.
Praise For Hitler…
Andrew Roberts, author of The Storm of War: A New History of the Second World War
"In the best short biography of Adolf Hitler for three decades, A. N. Wilson goes straight to the essentials to explain what made the Fuhrer the phenomenon he was. His conclusions make fascinating, if occasionally uncomfortable, reading even two-thirds of a century after Hitler's death."

Robert Gellately, author of Lenin, Stalin, and Hitler: The Age of Social Catastrophe
"A. N. Wilson is a born biographer and has an eye for the telling detail. In a book written with verve, insight, and imagination, he gives us a fresh look at Hitler. The story he tells is bound to interest and surprise even those who think they already know and understand this most curious historical figure, one who against all odds rose to become leader of Germany and then promptly brought about the greatest catastrophe in European history."
Kirkus Reviews

"[Wilson] provides a useful, even entertaining, life of Hitler. He revisits the expected events – his rise, his incarceration,
Mein Kampf
, his vicious henchman, his anti-Semitism, his enormous prewar popularity (not just in Germany), his poor military judgment, his women, his fall and death – and adds some nasty details (he couldn't control his farting; he was lazy and dressed oddly)." 
Booklist

"[A] sharply focused capsule biography…. A portrait as disturbing as it is succinct." 
Tucson
Citizen
"This well-crafted book cuts to the chase and reveals surprising facts about one of the most reviled figures in history…. A fascinating book that underscores the fact that even in a modern era enamored with progress and rationality, the darkest elements of society can sometimes fester and become the most seductive." 
Express (London)

"Wilson has opted for brevity and sharp metal, skewering and brilliantly dissecting Hitler bare in a book you can almost read in a sitting. Wilson cuts to the dark heart of the matter…. A stimulating triumph of the mind." 
The American Prospect

"[The] lesser-known facts, the telling details for which Wilson has a keen eye, are what make this biography stand out…. Wilson, whenever
der Führer
threatens to become a caricature of the madman with which we are all familiar, drops in a detail that, as hard to accept as it may be, reminds us that Hitler was a human being with many of the same joys, difficulties, and sorrows as the rest of us. For a brief biography of one of the largest figures of the 20th century, the inclusion of such detail is an accomplishment…. A.N. Wilson's biography provides a succinct, quick-reading introduction to Hitler that deftly manages the essentials, and, in its truly terrifying accomplishment, begins to bring the human being behind the monstrous
Führer
back to life."

Wall Street Journal
"Provocative…. Noting how much Hitler depended on his speeches (even 'Mein Kampf' was dictated), Mr. Wilson calls him the 'most hypnotic artist of post-literacy.' Like today's radio talk-show 'entertainers,' Hitler knew there was something about the spoken word that could galvanize millions. Rather than focus on Hitler's ideology, the biographer brilliantly singles out his subject's style of attack." 
Mail on Sunday
"[An] entertaining, short biography…. [Wilson] bring[s] a witty, novelist's insight into what made Hitler tick. He seems to understand Hitler's character in a way many historians never could." 
Boston
Globe
"Distilling his own career-long study into a tight, rapid-fire volume that is both portrait and warning, Wilson delivers a statement on Hitler that is insightful."
Reason
"As Europe convulses over seemingly unpayable debts and other economic troubles, British novelist and journalist A.N. Wilson offers
Hitler
, which explores the worst byproduct of such European paroxysms."
New York Times Book Review
 "[Wilson] evocatively catalogs the qualities of the young Hitler…. All this Wilson captures with cool wit and an appropriate deadpan sneer. Wilson is also effective when he recreates Hitler's rise to political prominence…. [He] makes palpably real for readers the cataclysmic effects of economic collapse. He rightly stresses the centrality of anti-Jewish rhetoric and policy to Hitler's popular appeal. Wilson is also impressively pointed in his account of the world's indifference, even deliberate inattention, to the plight of Europe's Jews. The sections on diplomacy are deft and full of dramatic flair and original judgments."
Asbury Park
Press
 "Wilson's biography of the Führer and his ascent to power is short, but concise and well researched…. [Wilson's] analysis ducks in and out of paragraphs like a talented prize fighter and gives fresh analysis of an old, but unforgettable subject."
The Courier-Journal 
"A.N. Wilson's book is an excellent primer on one of the most horrendous figures yet to live." 
Providence
Journal
Hitler
is a slender but insightful volume about the evil instigator of World War II and the murderer of millions."