Consider the Fork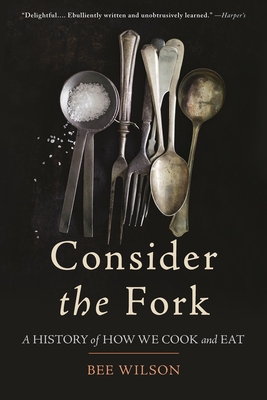 Consider the Fork
A History of How We Cook and Eat
Basic Books (AZ), Paperback, 9780465056972, 320pp.
Publication Date: October 8, 2013
* Individual store prices may vary.
Buy at Local Store
Enter your zip code below to purchase from an indie close to you.
or
Buy Here
Description
Since prehistory, humans have braved sharp knives, fire, and grindstones to transform raw ingredients into something deliciousor at least edible. Tools shape what we eat, but they have also transformed how we consume, and how we think about, our food. In "Consider the Fork," award-winning food writer Bee Wilson provides a wonderful and witty tour of the evolution of cooking around the world, revealing the hidden history of everyday objects we often take for granted. Technology in the kitchen does not just mean the Pacojets and sous-vide of the modernist kitchen, but also the humbler tools of everyday cooking and eating: a wooden spoon and a skillet, chopsticks and forks. Blending history, science, and anthropology, Wilson reveals how our culinary tools and tricks came to be, and how their influence has shaped modern food culture. The story of how we have tamed fire and ice and wielded whisks, spoons, and graters, all for the sake of putting food in our mouths, "Consider the Fork" is truly a book to savor.
About the Author
Bee Wilson is a food writer, historian, and author of three books, including "Swindled: The Dark History of Food Fraud, from Poisoned Candy to Counterfeit Coffee." Wilson served as the food columnist for the "New Statesman" for five years, and currently writes a weekly food column for "The Sunday Telegraph" s "Stella" magazine. Wilson lives in Cambridge, England.

"