Sam the Cooking Guy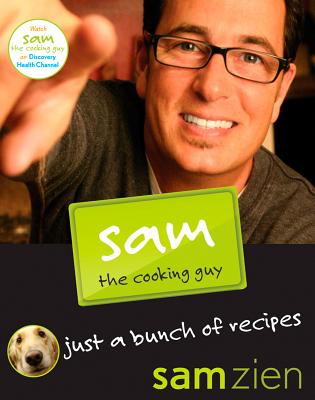 Sam the Cooking Guy
Just a Bunch of Recipes
Houghton Mifflin, Paperback, 9780470043738, 246pp.
Publication Date: March 1, 2008
* Individual store prices may vary.
Buy Now
or
Shop Local
Enter your zip code below to purchase from an indie close to you.
Description
I can't cook. I hear that all the time. And it's not that you can't--it's that you don't. It's that we've been wrecked by cooking shows with their millions of complicated steps and crazy-ass ingredients. Ingredients you can't find, let alone pronounce. That's not how I want to cook. I want to eat well, but I don't want it to take a year. Who's making stuff like 'Truffled Peruvian Mountain Squab with Chilled Framboise Foam' anyway?
"So this book is about food that's big in taste and small in effort. Just great-tasting stuff with no fancy techniques and definitely no over-the-top ingredients, as in everything-comes-from-a-regular-supermarket--cool concept, huh? It's just a bunch of recipes you'll easily be able to make and enjoy."
--From Sam the Cooking Guy
Look inside for great recipes like these:
One Dank Tomato Pie "Whatever" Spring Rolls Five-Minute Stir-Fry Noodles O.F.R.B.P.J.G.O. Awww Nuts BBQ Chicken Pizza Halloween Chicken Chili Fridge Fried Rice Sam's Sticky Sweet BBQ Ribs Stuffed Burgers Pesto BBQ Shrimp Chili Salmon Motor Home Meatballs Spicy-ish Sausage Pasta The Great Potato Cake Brussels Sprouts You'll Actually Eat (Fake) Creme Brulee Chocolate Toffee Matzoh Peanut Butter Ice-Cream Cup Things.
About the Author
Sam Zien is the creator and host of "Sam the Cooking Guy and Just Cook This!" on the Discovery Health Channel. Since first airing in 2002, Sam has won eight Emmy Awards. His Web site is thecookingguy.com.