Merchant of Death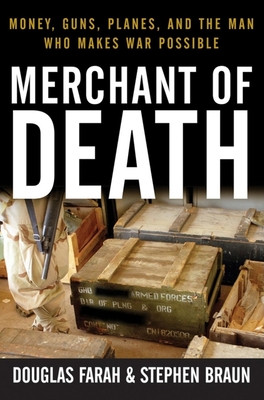 Merchant of Death
Money, Guns, Planes, and the Man Who Makes War Possible
Wiley (TP), Hardcover, 9780470048665, 308pp.
Publication Date: July 2007
* Individual store prices may vary.
Shop Local
Enter your zip code below to find indies closest to you.
Description
Praise for "Merchant of Death"
""A riveting investigation of the world's most notorious arms dealer--a page-turner that digs deep into the amazing, murky story of Viktor Bout. Farah and Braun have exposed the inner workings of one of the world's most secretive businesses--the international arms trade.""
--Peter L. Bergen, author of "The Osama bin Laden I Know"
""Viktor Bout is like Osama bin Laden: a major target of U.S. intelligence officials who time and again gets away. Farah and Braun have skillfully documented how this notorious arms dealer has stoked violence around the world and thwarted international sanctions. Even more appalling, they show how Bout ended up getting millions of dollars in U.S. government money to assist the war in Iraq. A truly impressive piece of investigative reporting.""
--Michael Isikoff, coauthor of "Hubris: The Inside Story of Spin, Scandal, and the Selling of the Iraq War"
""Douglas Farah and Stephen Braun are two of the toughest investigative reporters in the country. This is an important book about a hidden world of gunrunning and profiteering in some of the world's poorest countries.""
--Steve Coll, author of "Ghost Wars: The Secret History of the CIA, Afghanistan, and bin Laden, from the Soviet Invasion to September 10, 2001"
""In "Merchant of Death," two of America's finest reporters have performed a major public service, turning over the right rocks that reveal the brutal international arms business at the dawn of the twenty-first century. In Viktor Bout, they have given us a new Lord of War, a man who knows no side but his own, and who has a knack for turning up in every war zone just in time to turn a profit. As Farah and Braun uncover and document his troubling role in the Bush Administration's Global War on Terror, his ties to Washington almost seem inevitable.""
--James Risen, author of "State of War: The Secret History of the CIA and the Bush Administration"
""An extraordinary and timely piece of investigative reporting, Merchant of Death is also a vividly compelling read. The true story of Viktor Bout, a sociopathic Russian gunrunner who has supplied weapons for use in some of the most gruesome conflicts of modern times--and who can count amongst his clients both the former Taliban regime in Afghanistan and the U.S. military in Iraq--is a stomach-churning indictment of the policy failures and moral contradictions of the world's most powerful governments, including that of the United States.""
--Jon Lee Anderson, author of "The Fall of Baghdad"
Two respected journalists tell the incredible story of Viktor Bout, the Russian weapons supplier whose global network has changed the way modern warfare is fought. Bout's vast enterprise of guns, planes, and money has fueled internecine slaughter in Africa and aided both militant Islamic fanatics in Afghanistan and the American military in Iraq. This book combines spy thrills with crucial insights on the shortcomings of a U.S. foreign policy that fails to confront the lucrative and lethal arms trade that erodes global security.
About the Author
DOUGLAS FARAH spent seventeen years working as a foreign correspondent for "The Washington Post" and other publications and served as the "Post"'s West Africa bureau chief. Currently a member of the "Post"'s investigative reporting team, he lives in Takoma Park, Maryland.

Harry Fisch, M.D., is one of the nation's leaders in the diagnosis and treatment of male infertility. He is director of the Male Reproductive Center and directs urologic microsurgery in the Department of Urology at Columbia University Medical Center of New York Presbyterian Hospital in New York City. He is also professor of clinical urology at Columbia University, where he was recently named Teacher of the Year in his department. For over fifteen years, Dr. Fisch has focused his research, practice, and surgery on male infertility and reproduction. In his private practice in Manhattan, Dr. Fisch has successfully treated thousands of men with sexuality and fertility problems. His work has been frequently cited in a variety of publications, including "The New York Times" and "The Economist, " and he has appeared on television's Today and CBS Evening News, among many others. He lives in Scarsdale, New York.