How to Cook Everything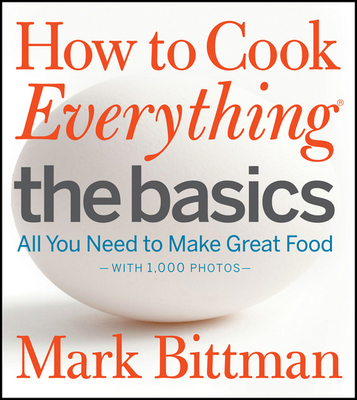 How to Cook Everything
The Basics: All You Need to Make Great Food
Houghton Mifflin, Hardcover, 9780470528068, 486pp.
Publication Date: February 24, 2012
* Individual store prices may vary.
Buy at Local Store
Enter your zip code below to purchase from an indie close to you.
or
Buy Here
Description
The next best thing to having Mark Bittman in the kitchen with you
Mark Bittman's highly acclaimed, bestselling book "How to Cook Everything" is an indispensable guide for any modern cook. With "How to Cook Everything The Basics" he reveals how truly easy it is to learn fundamental techniques and recipes. From dicing vegetables and roasting meat, to cooking building-block meals that include salads, soups, poultry, meats, fish, sides, and desserts, Bittman explains what every home cook, particularly novices, should know.
1,000 beautiful and instructive photographs throughout the book reveal key preparation details that make every dish inviting and accessible. With clear and straightforward directions, Bittman's practical tips and variation ideas, and visual cues that accompany each of the 185 recipes, cooking with "How to Cook Everything The Basics" is like having Bittman in the kitchen with you.
This is the essential teaching cookbook, with 1,000 photos illustrating every technique and recipe; the result is a comprehensive reference that's both visually stunning and utterly practical.
Special Basics features scattered throughout simplify broad subjects with sections like Think of Vegetables in Groups, How to Cook Any Grain, and 5 Rules for Buying and Storing Seafood.
600 demonstration photos each build on a step from the recipe to teach a core lesson, like Cracking an Egg, Using Pasta Water, Recognizing Doneness, and Crimping the Pie Shut.
Detailed notes appear in blue type near selected images. Here Mark highlights what to look for during a particular step and offers handy advice and other helpful asides.
Tips and variations let cooks hone their skills and be creative.
About the Author
MARK BITTMAN is one of America s beloved, best-known and most widely respected food writers. He covered food policy as an Opinion columnist for The New York Times for 5 years, produced "The Minimalist" column for 13 years, and has starred in several popular television series, including the Emmy-winning Years of Living Dangerously. He recently left the Times to devote his time to cookbooks, teaching at Berkeley, and working on food movement strategy with the Union of Concerned Scientists. He also co-founded Purple Carrot, the national company that delivers weekly vegan meal kits. Bittman has authored more than a dozen cookbooks, including the best-selling How to Cook Everything(r), How to Cook Everything(r) The Basics, How to Cook Everything(r) Vegetarian (all available as apps), How to Cook Everything(r) Fast, Food Matters, and VB6: Eat Vegan Before 6:00. For more information go to markbittman.com.


Wednesday, Jul 4, 2012
In his new book, How to Cook Everything: The Basics, Mark Bittman explains with careful instructions and 1,000 colorful photos how to stock your pantry, how to dice vegetables, which knives you should buy � and to really get back to basics � how to boil water. Originally broadcast March 19, 2012. More at NPR.org