The Networked Nonprofit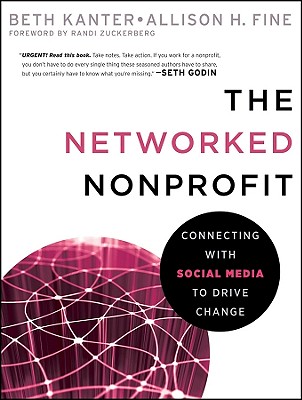 The Networked Nonprofit
Connecting with Social Media to Drive Change
Jossey-Bass, Paperback, 9780470547977, 201pp.
Publication Date: June 28, 2010
* Individual store prices may vary.
Buy at Local Store
Enter your zip code below to purchase from an indie close to you.
or
Not Currently Available for Direct Purchase
Description
The Networked Nonprofit Connecting with Social Media to Drive Change
This groundbreaking book shows nonprofits a new way of operating in our increasingly connected world: a networked approach enabled by social technologies, where connections are leveraged to increase impact in effective ways that drive change for the betterment of our society and planet.
""The Networked Nonprofit" is a must-read for any nonprofit organization seeking innovative, creative techniques to improve their mission and better serve their communities." --Diana Aviv, president and CEO, Independent Sector
"The Internet means never having to ask permission before trying something new. In The Networked Nonprofit, Kanter and Fine show nonprofits how to harness this flexibility to pursue their missions in partnership with two billion connected citizens." --Clay Shirky, author, "Here Comes Everybody: The Power of Organizing Without Organizations"
""The Networked Nonprofit" uniquely describes the historical context and the current challenges that compel nonprofit leaders to work in networked ways and offers easy steps to help users exploit the potential of social media and 'working wikily."' --Stephanie McAuliffe, director, organizational effectiveness, The David and Lucile Packard Foundation
"A must-read for nonprofit leaders who want to change their organizations from the inside out by embracing the power of social networks." --Charlene Li, founding partner, Altimeter Group; author, Open Leadership; and coauthor, Groundswell
"This is a perfect handbook for anyone who wants to leapfrog their current limitations of understanding and find real-world applications of technology to extend their mission." --Michele Nunn, CEO, Points of Light Institute, and cofounder, HandsOn Network
"Kanter and Fine provide the 'Google Maps' for nonprofits to harness social media to kick butt and change the world." --Guy Kawasaki, cofounder, Alltop.com, and former chief evangelist, Apple Inc.
"URGENT Read this book. Take notes. Take action. If you work for a nonprofit, you don't have to do every single thing these seasoned authors have to share, but you certainly have to know what you're missing." --Seth Godin
Register at www.josseybass.com/emailfor more information on our publications, authors, and to receive special offers.
About the Author


Allison H. Fine is a successful social entrepreneur and writer dedicated to helping grassroots organizations and activists implement and sustain social change efforts. Fine is a senior fellow at Demos, a network of action and ideas based in New York City. She is the founder of Innovation Network, Inc. (InnoNet), and the former CEO of E-Volve Foundation. Currently she serves on the board of directors of Just Vision. She lives on the banks of the Hudson River with her husband, Scott, and three sons, Jack, Zack, and Max.Join her interactive conversation on social change in the digital age at afine@afine.us.

Randi Zuckerberg is the CEO and founder of Zuckerberg Media, a tech savvy production company, and editor-in-chief of Dot Complicated, a modern lifestyle community and blog. She was an early employee of Facebook where she pioneered live streaming initiatives and struck groundbreaking deals with ABC and CNN. She has been nominated for an Emmy and is ranked among the "50 Digital Power Players" by the Hollywood Reporter. Zuckerberg is the author of Dot., an illustrated children's book about a spunky little girl obsessed with electronic devices. She lives with her husband, Brent, and son, Asher, in Silicon Valley.