Brothers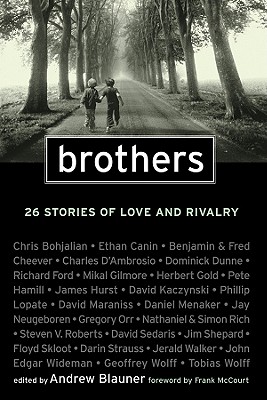 Brothers
26 Stories of Love and Rivalry
Jossey-Bass, Paperback, 9780470599648, 273pp.
Publication Date: April 19, 2010
* Individual store prices may vary.
Buy Now
or
Shop Local
Enter your zip code below to purchase from an indie close to you.
Description
"The next best thing to not having a brother (as I do not) is to have "Brothers."" --Gay Talese
Here is a tapestry of stories about the complex and unique relationship that exists between brothers. In this book, some of our finest authors take an unvarnished look at how brothers admire and admonish, revere and revile, connect and compete, love and war with each other. With hearts and minds wide open, and, in some cases, with laugh-out-loud humor, the writers tackle a topic that is as old as the Bible and yet has been, heretofore, overlooked.
Contributors range in age from twenty-four to eighty-four, and their stories from comic to tragic. "Brothers" examines and explores the experiences of love and loyalty and loss, of altruism and anger, of competition and compassion--the confluence of things that conspire to form the unique nature of what it is to be and to have a brother.
"Brother." One of our eternal and quintessential terms of endearment. Tobias Wolff writes, "The good luck of having a brother is partly the luck of having stories to tell." David Kaczynski, brother of "The Unabomber" "I'll start with the premise that a brother shows you who you are--and also who you are not. He's an image of the self, at one remove . . . You are a 'we' with your brother before you are a 'we' with any other." Mikal Gilmore refers to brotherhood as a "fidelity born of blood."
We've heard that the apple doesn't fall far from the tree. But where do the apples fall in relation to each other? And are we, in fact, our brothers' keepers, after all?
These stories address those questions and more, and are, like the relationships, full of intimacy and pain, joy and rage, burdens and blessings, humor and humanity.
About the Author
Andrew Blauner is the founder of Blauner Books Literary Agency. He is the editor of Coach: 25 Writers Reflect on People Who Made a Difference; Brothers: 26 Stories of Love and Rivalry; and Central Park: An Anthology. He is also co-editor of Anatomy of Baseball. A graduate of Brown University and Columbia Business School, he is a member of PEN and the National Book Critic Circle.

Frank McCourt (1930-2009) was born in Brooklyn, New York, to Irish immigrant parents, grew up in Limerick, Ireland, and returned to America in 1949. For thirty years he taught in New York City high schools. His first book, "Angela's Ashes", won the Pulitzer Prize, the National Book Critics Circle Award and the "L.A. Times" Book Award. In 2006, he won the prestigious Ellis Island Family Heritage Award for Exemplary Service in the Field of the Arts and the United Federation of Teachers John Dewey Award for Excellence in Education.