1959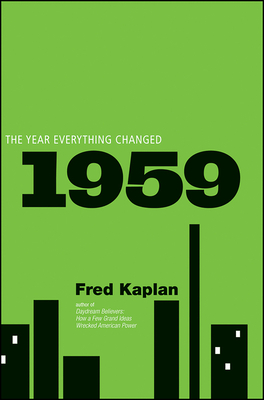 1959
The Year Everything Changed
Wiley (TP), Paperback, 9780470602034, 322pp.
Publication Date: April 1, 2010
* Individual store prices may vary.
Buy Now
or
Shop Local
Enter your zip code below to purchase from an indie close to you.
Description
Acclaimed national security columnist and noted cultural critic Fred Kaplan looks past the 1960s to the year that "really" changed America
While conventional accounts focus on the sixties as the era of pivotal change that swept the nation, Fred Kaplan argues that it was 1959 that ushered in the wave of tremendous cultural, political, and scientific shifts that would play out in the decades that followed. Pop culture exploded in upheaval with the rise of artists like Jasper Johns, Norman Mailer, Allen Ginsberg, and Miles Davis. Court rulings unshackled previously banned books. Political power broadened with the onset of Civil Rights laws and protests. The sexual and feminist revolutions took their first steps with the birth control pill. America entered the war in Vietnam, and a new style in superpower diplomacy took hold. The invention of the microchip and the Space Race put a new twist on the frontier myth.Vividly chronicles 1959 as a vital, overlooked year that set the world as we know it in motion, spearheading immense political, scientific, and cultural changeStrong critical acclaim: ""Energetic and engaging"" ("Washington Post"); ""Immensely enjoyable . . . a first-rate book"" ("New Yorker"); ""Lively and filled with often funny anecdotes"" ("Publishers Weekly")Draws fascinating parallels between the country in 1959 and today
Drawing fascinating parallels between the country in 1959 and today, Kaplan offers a smart, cogent, and deeply researched take on a vital, overlooked period in American history.
About the Author
Fred Kaplan is a Distinguished Professor Emeritus of English at Queens College and the Graduate Center of the City University of New York. He is the author of several biographies including The Singular Mark Twain, Gore Vidal, Henry James, The Imagination of Genius, Charles Dickens and Thomas Carlyle, which was a finalist for the National Book Critics Circle Award and the Pulitzer Prize. He lives in Boothbay, Maine.