The Science of Influence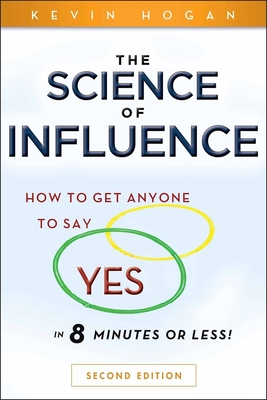 The Science of Influence
How to Get Anyone to Say "Yes" in 8 Minutes or Less!
Wiley, Paperback, 9780470634189, 320pp.
Publication Date: October 19, 2010
* Individual store prices may vary.
Buy Now
or
Shop Local
Enter your zip code below to purchase from an indie close to you.
Description
Get customers, clients, and co-workers to say "yes " in 8 minutes or less
This revised second edition by a leading expert of influence continues to teach a proven system of persuasion. Synthesizing the latest research in the field of influence with real-world tested experiences, it presents simple secrets that help readers turn a "no" into a "yes." Every secret in this book has been rigorously tested, validated, and found reliable. Learn dozens of all-new techniques and strategies for influencing others including how to reduce resistance to rubble Make people feel instantly comfortable in your presence Decode body language, build credibility, and be persistent without being a pain Expert author Kevin Hogan turns the enigmatic art of influence and persuasion into a science anyone can master
The amazing secret of "The Science of Influence" is its simplicity. After you read this book you will immediately understand why people say "no" to you and learn how to turn that "no" into a "yes" from that moment on.
About the Author
Kevin Hogan is a national public speaker and founder of Success Dynamics Foundation, a nonprofit organization that strives to teach schoolchildren about making correct choices about drug use. An expert on body language, he is sought after by the media and even has interepreted President Clinton's demeanor during a televised speech for the New York Post . He holds a doctorate of clinical hypnotherapy from American Institute of Hypnotherapy (Irvine, California) and a Ph.D. in metaphysics from the American Institute of Holistic Theology (Youngstown, Ohio). Dr. Hogan has a clinical hypnotherapy practice and sees clients daily. He resides in Eagan, Minnesota.