Annoying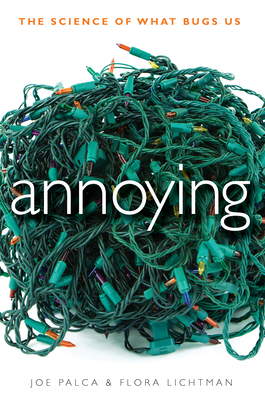 Annoying
The Science of What Bugs Us
Wiley (TP), Hardcover, 9780470638699, 262pp.
Publication Date: April 1, 2011
* Individual store prices may vary.
Buy at Local Store
Enter your zip code below to purchase from an indie close to you.
or
Buy Here
Description
"A scientific look at something that affects us all--annoying spouses, car alarms, fingernails on a chalkboard, coworkers, missed planes, bad dreams, dropped calls, bed bugs, even the sounds coming out of everyone else's iPod--while still being humorous, surprising, and helpful"--
About the Author
Joe Palca is a science correspondent for National Public Radio and the backup host for "Talk of the Nation Science Friday."Flora Lichtman is the multimedia editor for "Science Friday."
Tuesday, May 17, 2011
In their new book, Annoying: The Science Of What Bugs Us, NPR Science Correspondent Joe Palca and Science Friday's Flora Lichtman set out to examine why certain things � and people � drive us bananas. More at NPR.org
Friday, Apr 29, 2011
Can science explain life's daily annoyances? From the psychology of trash talk to frustrated magnets, NPR's Joe Palca and Science Friday's Flora Lichtman survey a broad swath of science to try to understand perhaps the most widely-experienced and least-studied feeling. More at NPR.org