Farewell, Titanic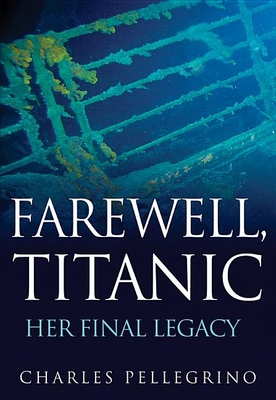 Farewell, Titanic
Her Final Legacy
Wiley (TP), Hardcover, 9780470873878, 333pp.
Publication Date: March 1, 2012
* Individual store prices may vary.
Buy Now
or
Shop Local
Enter your zip code below to purchase from an indie close to you.
Description
On the 100th anniversary of the "Titanic"'s sinking, a prominent "Titanic" researcher offers a final chance to see the ship before it disappears forever
The "Titanic" was the biggest, most luxurious passenger ship the world had ever seen; the ads proclaimed it to be unsinkable. When it sank in April 1912 after hitting an iceberg, killing more than 1,500 people, the world was forever changed and the public has been spellbound ever since. Now, a century later, the "Titanic" is about to disappear again: its infrastructure is set to collapse in the next few years. In this book, scientist Charles Pellegrino offers what may be the last opportunity to see the ship before it is lost to the seas for eternity. The last book to be written while survivors were still alive and able to contribute details, "Farewell, Titanic" includes many untold stories about the sinking and exploration of the unsinkable ship.Author Charles Pellegrino provided source material for James Cameron's Oscar-winning "Titanic" film, which is being re-released in 3D at the same time as the bookIncludes 16 pages of never-before-published full-color photographs of the sunken vesselIncludes all-new information about the "Titanic" research that has been carried out in the last decadeWritten by a "New York Times" bestselling author who participated in the post-discovery analysis of the "Titanic"'s remains during the expedition that immediately followed Robert Ballard's "Titanic" discovery in 1985.
About the Author
Charles Pellegrino is the author of numerous internationally bestselling books. Her Name, Titanic sold over a million copies and was one of the nonfiction sources for James Cameron's movie Titanic. Several of Pellegrino's books have been adapted for Time Life and National Geographic specials, including Unearthing Atlantis. He has a Ph.D. in paleobiology and is one of a small number of scientists who brought forensic science methods into the field of archaeology. As a forensic archaeologist, he has worked on the Titanic, in Pompeii and its sister cities, and at New York's Ground Zero.