Disciplined Dreaming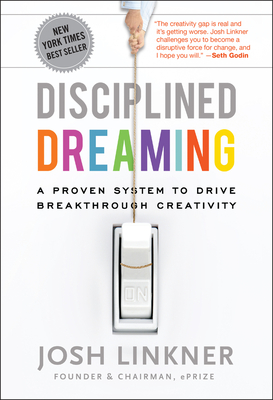 Disciplined Dreaming
A Proven System to Drive Breakthrough Creativity
Jossey-Bass, Hardcover, 9780470922224, 235pp.
Publication Date: February 22, 2011
* Individual store prices may vary.
Buy Now
or
Shop Local
Enter your zip code below to purchase from an indie close to you.
Description
A 5-part process that will transform your organization -- or your career -- into a non-stop creativity juggernaut
We live in an era when business cycles are measured in months, not years. The only way to sustain long term innovation and growth is through creativity-at all levels of an organization. "Disciplined Dreaming" shows you how to create profitable new ideas, empower all your employees to be creative, and sustain your competitive advantage over the long term. Linkner distills his years of experience in business and jazz -- as well as hundreds of interviews with CEOs, entrepreneurs, and artists -- into a 5-step process that will make creativity easy for you and your organization. The methodology is simple, backed by proven results. Empowers individuals, teams, and organizations to meet creative challenges posed by the marketplace Turns the mystery of creativity into a simple-to-use process Shows how creativity can be used for everything from innovative, game-shifting breakthroughs to incremental advances and daily improvements to business processes Offers dozens of practical exercises, thought-starters, workouts to grow "creative muscles," and case studies
"Disciplined Dreaming" shows even the stuffiest corporate bureaucracies how to cultivate creativity in order to become more competitive in today's shifting marketplace.
- #4 "New York Times" Best Seller (Advice, How-To and Miscellaneous)
- #8 "New York Times" Best Seller (Hardcover Business)
- #2 "Wall Street Journal" Best Seller (Hardcover Business)
- #9 "Wall Street Journal" Best Seller (Hardcover Nonfiction)
- #9 "Washington Post" Best Seller (Hardcover Nonfiction)
- #1 "USA Today" Best Seller (Money)
- #10 "Entertainment Weekly" Best Seller (Hardcover Nonfiction)
- #10 "Publishers Weekly" Bestseller (Hardcover Nonfiction)
About the Author
Josh Linkner is the CEO of Detroit Venture Partners, playing a key role in the turnaround of Detroit, Michigan. He is the founder and former CEO of four successful tech companies including ePrize, the largest interactive promotion agency in the world. He is also the author of the New York Times bestseller Disciplined Dreaming (Jossey-Bass, 2011). He has been honored as the Ernst & Young Entrepreneur of the Year and is a President Obama Champion of Change award recipient. Josh is a regular columnist for Forbes, Detroit Free Press, and Inc. Magazine, and he also plays a mean jazz guitar. He lives in Detroit, Michigan. For more information, please visit www.joshlinkner.com.