How to Cook Everything Fast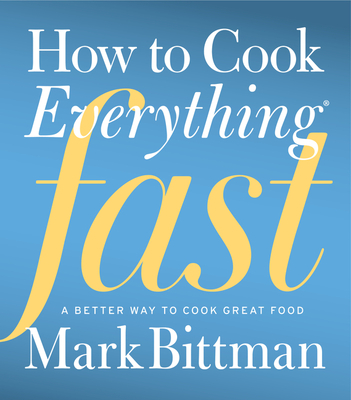 How to Cook Everything Fast
A Better Way to Cook Great Food
Houghton Mifflin, Hardcover, 9780470936306, 1056pp.
Publication Date: October 7, 2014
* Individual store prices may vary.
Buy at Local Store
Enter your zip code below to purchase from an indie close to you.
or
Buy Here
Description
Homemade wonton soup in 30 minutes. Chicken Parmesan without dredging and frying. Fruit crisp on the stovetop. The secret to cooking fast is cooking smart choosing and preparing fresh ingredients efficiently. In "How to Cook Everything Fast," Mark Bittman provides a game plan for becoming a better, more intuitive cook while you wake up your weekly meal routine with 2,000 main dishes and accompaniments that are simple to make, globally inspired, and bursting with flavor."How to Cook Everything Fast "is a book of kitchen innovations. Time management the essential principle of fast cooking is woven into revolutionary recipes that do the thinking for you. You ll learn how to take advantage of downtime to prepare vegetables while a soup simmers or toast croutons while whisking a dressing. Just cook as you read and let the recipes guide you quickly and easily toward a delicious result. Bittman overhauls hundreds of classics through clever (even unorthodox) use of equipment and techniques encouraging what he calls naturally fast cooking and the results are revelatory. There are standouts like Cheddar Waffles with Bacon Maple Syrup (bold flavors in less time); Charred Brussels Sprout Salad with Walnuts and Gorgonzola (the food processor streamlines chopping); Spaghetti and Drop Meatballs with Tomato Sauce (no rolling or shaping); and Apple Crumble Under the Broiler (almost instant dessert gratification). Throughout, Bittman's commonsense advice and plentiful variations provide cooks with freedom and flexibility, with tips for squeezing in further shortcuts, streamlined kitchen notes, and illustrations to help you prep faster or cook without a recipe."How to Cook Everything Fast "puts time on your side and makes a lifetime of homemade meals an exciting and delicious reality.
About the Author
MARK BITTMAN is one of America s beloved, best-known and most widely respected food writers. He covered food policy as an Opinion columnist for The New York Times for 5 years, produced "The Minimalist" column for 13 years, and has starred in several popular television series, including the Emmy-winning Years of Living Dangerously. He recently left the Times to devote his time to cookbooks, teaching at Berkeley, and working on food movement strategy with the Union of Concerned Scientists. He also co-founded Purple Carrot, the national company that delivers weekly vegan meal kits. Bittman has authored more than a dozen cookbooks, including the best-selling How to Cook Everything(r), How to Cook Everything(r) The Basics, How to Cook Everything(r) Vegetarian (all available as apps), How to Cook Everything(r) Fast, Food Matters, and VB6: Eat Vegan Before 6:00. For more information go to markbittman.com.
Tuesday, Sep 30, 2014
Rachel Martin talks to food writer Mark Bittman about his new cookbook, "How to Cook Everything Fast," which thumbs its nose at the French tradition of having ingredients prepped before you cook. More at NPR.org