Allan Pinkerton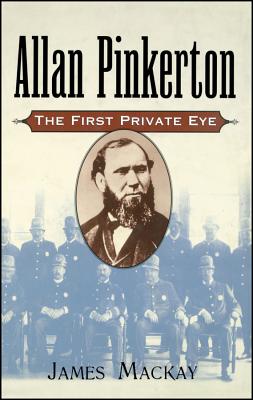 Allan Pinkerton
The First Private Eye
Wiley, Hardcover, 9780471194156, 256pp.
Publication Date: August 7, 1997
* Individual store prices may vary.
Buy Now
or
Shop Local
Enter your zip code below to purchase from an indie close to you.
Description
Allan Pinkerton


Around the world, his name is synonymous with security and protection. The legendary agency he began nearly one hundred and fifty years ago is still in operation today, as are many of the surveillance and infiltration techniques he originated. His company's trademark symbol, a large, unblinking eye, inspired the term private eye.


As befits a man who spent so much of his life working behind the scenes, Allan Pinkerton's life has been shaded in mystery and misinformation. Now, after a decade of painstaking research, award-winning biographer James Mackay pierces the web of contradictions, half-truths, and myths to reveal, for the first time, the true story of the life and career of this colorful, complex, and controversial man.


Born in Scotland, Allan Pinkerton arrived in America with a solitary silver dollar in his pocket and—as legend has it—the law hot on his heels. A cooper by trade, he might have spent his life making barrels but for a fateful trip in the summer of 1846. On an uninhabited island, where he had gone to cut saplings for barrel staves, Pinkerton happened upon a thicket where a blackened patch suggested a recent fire. To Pinkerton, it also suggested something was amiss. In what became his very first case, the young cooper employed his acute powers of deductive reasoning, patience, and perseverance that would become the hallmarks of his modus operandi. His dogged determination (and several damp, cold, lonely nocturnal vigils) paid off when a gang of counterfeiters was discovered. The modern detective was born.


Through four decades of tumultuous history, Allan Pinkerton left an indelible mark. From the Underground Railroad to the Chicago underworld to Pennsylvania and the civil unrest of the notorious Molly Maguires, he took on bandits, bank robbers, kidnappers, spies, and even Jesse James himself. His role in the Civil War was critical: as Lincoln's spymaster, he managed a network of spies who worked behind Confederate lines and tackled espionage at the highest levels in Washington itself. In particular, James Mackay's scrupulously balanced account challenges the conventional view of the controversy surrounding Pinkerton's role in the Peninsular campaign of 1862. Was poor intelligence responsible for prolonging the war?


A man of firm beliefs and principles, Allan Pinkerton could be a fair-minded employer—and an absolute tyrant as a husband and father. As intriguing as any of the detective's countless cases, Allan Pinkerton: The First Private Eye is a masterful look at an extraordinary figure, filled with the rich, revealing details that distinguish the best biographies.


"James Mackay, the award-winning biographer of Robert Burns, is the first historian to attempt to shade in both the darker and lighter sides of Pinkerton, and the result is the tightest and most reliable account so far, a portrait of a man at once deeply admirable and quite obnoxious." —The Times (London).


"A fair-minded and thorough analysis of a complex and contradictory man . . . an impressive look at the life of Pinkerton." —The Daily Telegraph (London).
About the Author
Shena Mackay was born in Edinburgh in 1944 and grew up in Kent and London, where she now lives. She left school at the age of 16 after winning a poetry competition in the "Daily Mirror" Her first book, published in 1964 but written when she was still a teenager, consists of two novellas, Dust Falls on Eugene Schlumburger" "and Toddler on the Run. Her first novel, Music Upstairs was published in 1965 and was followed by Old Crow (1967), An Advent Calendar (1971), Babies in Rhinestones (1983), A Bowl of Cherries (1984), Redhill Rococo (1986) -- winner of the Fawcett Prize -- Dreams of Dead Women' Handbag"s" (1987), the widely admired Dunedin (1992) and The Laughing Academy (1993). Both Dunedin and The Laughing Academy won Scottish Arts Council Book Awards. "T"he Orchard on Fire was shortlisted for the 1996 Booker Prize and the McVities Prize. The Artist's Widow was published in 1998 and her latest book, The World's Smallest Unicorn, a collection of short stories, was published in 1999.
Shena regularly writes stories for the BBC and others, and reviews books and theatre for a variety of publications. She has been a Booker Prize judge and has also been made a Fellow of the Royal Society of Literature.
"From the Trade Paperback edition."