Sweet Seasons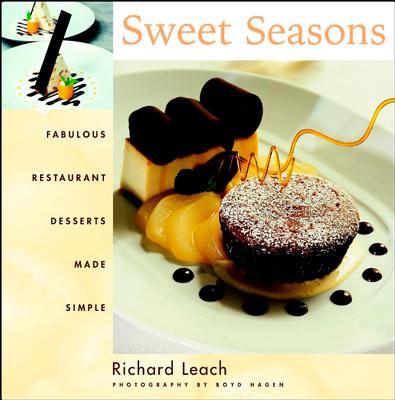 Sweet Seasons
Fabulous Restaurant Desserts Made Simple
Houghton Mifflin, Hardcover, 9780471387381, 272pp.
Publication Date: September 18, 2001
* Individual store prices may vary.
Buy Now
or
Shop Local
Enter your zip code below to purchase from an indie close to you.
Description
"Richard Leach has inspired an entire generation of pastry chefs. He's widely imitated . . . he has single-handedly changed the way desserts look around the country in a lot of restaurants." --Alfred Portale, Gotham Bar & Grill
"The first time I encountered Richard Leach's desserts, I became absolutely incoherent. My notes from that meal are garbled and filled with exclamation points."--Ruth Reichl, New York Times
"Richard Leach, the pastry chef, should have his hands licensed as deadly weapons, like boxers." --Bryan Miller, New York Times
Food critics, nationwide, have exalted him. Food Arts magazine dubbed him the "Pythagoras of pastry," in recognition of his revolutionary genius as a pastry chef. Master pastry chefs, everywhere, have tried to imitate him and failed. Now, at last, in this beautifully illustrated guide, Richard Leach reveals the secrets behind his fabulous talent to inspire home bakers as he has professional pastry chefs.
In Sweet Seasons, Chef Richard Leach shares 400 of his building block recipes that can be combined to create 100 of his favorite, original desserts, organized by the seasons--so bakers can take advantage of the freshest available ingredients--and richly supplemented with 113 color photographs illustrating the plated desserts and their assembly. Each recipe is structured so as to allow readers to prepare all or any part of the dessert, based on level of expertise and availability of ingredients. For example, a summer dessert of Warm Peach Strudel with Sweet Corn Panna Cotta breaks down the recipe into its components (e.g., roasted peaches, vanilla crepes, corn panna cotta, peach sauce, honey tuille garnish, etc.) to allow the reader to "mix and match." Throughout, Chef Leach provides useful substitution tips and plating directions, and includes a complete Resource List, which provides sources for ingredients and equipment.
Richard Leach (New York, NY) is Executive Pastry Chef at Park Avenue Cafe. He was named 1997 Pastry Chef of the Year by the James Beard Foundation and one of the Top Ten Pastry Chefs in America by Pastry Art and Design.
About the Author
RICHARD LEACH, Executive Pastry Chef at the Park Avenue Cafe, was named Pastry Chef of the Year by the James Beard Foundation in 1997. He has twice been recognized as one of the Top Ten Pastry Chefs of America by Chocolatier magazine. A graduate of The Culinary Institute of America, he has worked at Aureole, Lespinasse, Symphony Cafe, and La CAte Basque.
BOYD HAGEN is a photographer who lives in New York City with his family. His photographs have appeared in Time, Newsweek, Rolling Stone, the New York Times, and Fine Cooking. This is the fifth book he has photographed.