Mysteries of My Father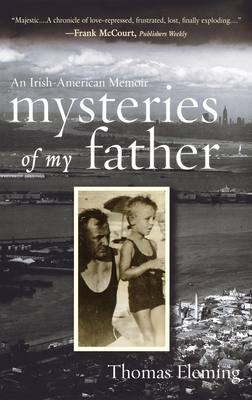 Mysteries of My Father
Wiley, Hardcover, 9780471655152, 352pp.
Publication Date: April 1, 2005
* Individual store prices may vary.
Not Currently Available for Direct Purchase
or
Shop Local
Enter your zip code below to purchase from an indie close to you.
Description
A son comes of age in a fiercely political world
""Thomas Fleming gives us an unforgettable story about an immigrant family--his family--as it struggles to find a place in the American century. He shares with us the dreams and heartaches of his parents, and, in the end, he reminds us of the mysterious and forgiving power of love.""
--Terry Golway, author of The Irish in America
""A truly moving story of a lifelong duel between father and son, Mysteries of My Father also vibrates with the great good humor that grows out of ward politics, and pulses with the heartfelt drama of a family just getting by. There were some bad times in the Fleming family story, but Tom Fleming prevails to the good times, and the best time is left to the reader. What a wonderful time I had reading this book.""
--Dennis Smith, author of the Report from Engine Co. 82 and Report from Ground Zero
""A well-written, fascinating political history.""
--Margaret Truman, author of Murder at Union Station
""With a historian's fidelity and a poet's empathy, Tom Fleming has created a textured study of three generations of Irish-Americans, whose clashing spiritual values inform their integration into New Jersey's social and political hierarchy. Mysteries of My Father is an American classic achieved by a master storyteller's talents for exploring the tensions and bonds between a father and his sons. Among the literary wonders of this brisk and moving memoir is the father's emergence as a seminal American character--brusque and pragmatic, yet capable of expected tenderness to his sons.""
--Sidney Offit, author of Memoir of the Bookie's Son
""If you care about what it means to be an Irish-American, or about New Jersey political history, or about the relationships between fathers and sons, or about wonderful writing, run--don't walk--out to buy Tom Fleming's Mysteries of My Father.""
--Nick Acocella, publisher of Politifax.
About the Author
THOMAS FLEMING is the author of more than forty novels and nonfiction books, including bestsellers such as The Officers' Wives, Time and Tide, and Liberty! The American Revolution. He is a frequent guest and contributor to NPR, PBS, A&E, and the History Channel. He was the principal commentator on the award-winning PBS documentary The Irish in America: Long Journey Home. A Fellow of the Society of American Historians, Fleming has served as chairman of the American Revolution Round Table and president of the American Center of P.E.N., the international writer's organization. He lives in New York City.