Uncle Silas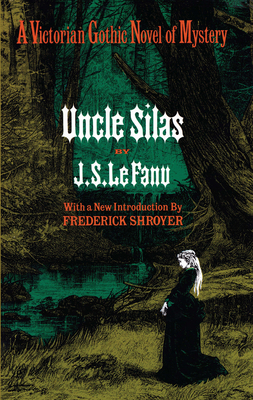 Uncle Silas
Dover Publications, Paperback, 9780486217154, 480pp.
Publication Date: November 2, 2011
* Individual store prices may vary.
Buy Now
or
Shop Local
Enter your zip code below to purchase from an indie close to you.
Description
Ayoung heiress is compelled to join her mysterious uncle's peculiar household a secluded estate, staffed by unfriendly servants and tainted by the memory of a long-ago scandal. Le Fanu's Victorian mystery, a gripping tale of psychological terror, continues to enchant lovers of suspense with its narrative power and atmospheric details.
About the Author
Comme plusieurs de ses compatriotes ecrivains, Joseph Sheridan Le Fanu n'est connu en France que pour un seul de ses romans: "Carmilla", roman gothique flamboyant. Etudiant en droit a Trinity College de 1833 a 1837, Joseph Sheridan Le Fanu est appele au barreau irlandais deux ans plus tard, mais il n'y exercera jamais. Il rejoint l'equipe du "Dublin University Magazine" en 1837 et debute sa carriere comme journaliste. En 1843, il epouse Susanna Bennett dont le deces, dix ans plus tard, le plonge dans la depression. Vivant reclus, il se lance alors a corps perdu dans l'ecriture de ses histoires d'horreur, a tel point que sa timidite et son mode de vie nocturne lui valent le surnom de Prince Invisible. Il disparait le 7 fevrier 1873. J. Sheridan Le Fanu est l'un des ecrivains les plus populaires de l'ere victorienne: il s'impose comme le maitre des histoires de fantomes et du roman gothique avec "Oncle Silas" (1864, Corti, 1997), "Comment ma cousine a ete assassinee" (Mille et une nuits, 2002) et "Carmilla" (1872, Zulma, 2005).