Washington Square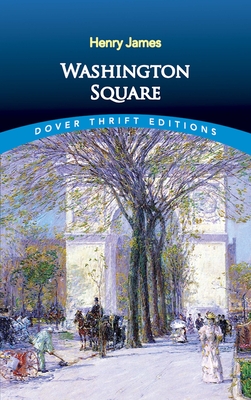 Washington Square
Dover Publications, Paperback, 9780486404318, 176pp.
Publication Date: June 18, 1998
* Individual store prices may vary.
Buy at Local Store
Enter your zip code below to purchase from an indie close to you.
or
Buy Here
Description
Set in New York City in the 1840s, this celebrated novel tells the story of Catherine Sloper, the docile and affectionate daughter of a well-to-do physician, who appears destined for a lifetime of spinsterhood with only the companionship of her sardonic father and fatuous aunt.
When a flurry of attention from an attractive suitor causes the plain and unremarkable Catherine to fall deeply in love, the stage is set for a struggle of opposing wills between Catherine and her adored father. Dismayed by his prospective son-in-law's shallowness and lack of prospects, and strongly suspecting him of fortune-hunting, Dr. Sloper threatens Catherine with disinheritance and forces her into a choice between father and lover. As the tale unfolds, James explores, with acute psychological penetration and masterly storytelling skill, the moral consequences of the callous exploitation of trust and the ruthless manipulation of a tender heart.
While this memorable story plays itself out in the vanished world of nineteenth-century New York, its underlying themes and moral concerns are timeless and universal. Students and other lovers of great literature will appreciate this inexpensive edition of one of the great American novels.
About the Author
Henry James was born the son of a religious philosopher in New York City in 1843. His famous works include The Portrait of a Lady, Washington Square, Daisy Miller, and The Turn of the Screw. He died in London in 1916, and is buried in the family plot in Cambridge, Massachusetts.