Hard Times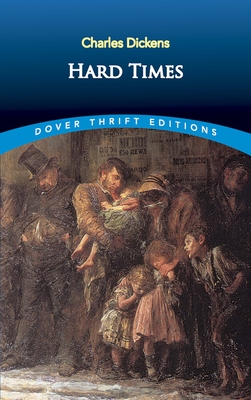 Hard Times
Dover Publications, Paperback, 9780486419206, 240pp.
Publication Date: August 22, 2001
* Individual store prices may vary.
Buy at Local Store
Enter your zip code below to purchase from an indie close to you.
or
Buy Here
Description
"My satire is against those who see figures and averages, and nothing else," proclaimed Charles Dickens in explaining the theme of this classic novel. Published in 1854, the story concerns one Thomas Gradgrind, a "fanatic of the demonstrable fact," who raises his children, Tom and Louisa, in a stifling and arid atmosphere of grim practicality.
Without a moral compass to guide them, the children sink into lives of desperation and despair, played out against the grim background of Coketown, a wretched community shadowed by an industrial behemoth. Louisa falls into a loveless marriage with Josiah Bouderby, a vulgar banker, while the unscrupulous Tom, totally lacking in principle, becomes a thief who frames an innocent man for his crime. Witnessing the degradation and downfall of his children, Gradgrind realizes that his own misguided principles have ruined their lives.
Considered Dickens' harshest indictment of mid-19th-century industrial practices and their dehumanizing effects, this novel offers a fascinating tapestry of Victorian life, filled with the richness of detail, brilliant characterization, and passionate social concern that typify the novelist's finest creations.
Of Dickens' work, the eminent Victorian critic John Ruskin had this to say: "He is entirely right in his main drift and purpose in every book he has written; and all of them, but especially "Hard Times," should be studied with close and earnest care by persons interested in social questions.
About the Author
Arguably one of the greatest writers of the Victorian era, Charles Dickens is the author of such literary masterpieces as A Tale of Two Cities (1859), A Christmas Carol (1843), David Copperfield (1850), and The Adventures of Oliver Twist (1839), among many others. Dickens' s indelible characters and timeless stories continue to resonate with readers around the world more than 130 years after his death. Dickens was born in 1812 and died in 1870.

Charles Dickens (1821-1870) used his fiction to criticize the injustices of his time, especially the brutal treatment of the poor. He is also the author of "Oliver Twist, Nicholas Nickleby, David Copperfield, A Tale of Two Cities, " and "Great Expectations." He was born in Portsmouth, England.