A Princess of Mars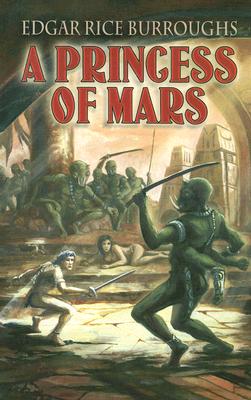 A Princess of Mars
Dover Publications, Paperback, 9780486443683, 160pp.
Publication Date: July 26, 2005
* Individual store prices may vary.
Buy at Local Store
Enter your zip code below to purchase from an indie close to you.
or
Not Currently Available for Direct Purchase
Description
Civil War veteran John Carter is transported to a dying planet, where he must elude capture by giant green barbarians to rescue a Martian princess from certain doom. In this landmark of science fiction, the myths and mystery of the red planet supply a vibrant backdrop for a swashbuckling epic.
Published in 1911, "A Princess of Mars" introduced a popular series of novels recounting John Carter's Martian exploits. Author Edgar Rice Burroughs, best known as the creator of "Tarzan, "employed a new style of writing that combined the genres of fantasy, adventure, and science fiction. His imaginative setting an advanced but decaying civilization, where Olympian heroics play out against malevolent forces and ever-changing fortunes endures as a timeless world, in which love, honor, and loyalty form the basis for fast-paced romantic adventures.
Generations of readers have thrilled to Burroughs' Martian tales, including writers of science fiction and fact, such as Ray Bradbury and Carl Sagan. "I stood on the lawns of summer, raised my hands, and cried for Mars, like John Carter, to take me home," remembered Ray Bradbury, "I flew to the red planet and never returned.
About the Author
Edgar Rice Burroughs (1875-1950) is the creator of Tarzan, one of the most popular fictional characters of all time, and John Carter, hero of the Barsoom science fiction series. Burroughs was a prolific author, writing almost 70 books before his death in 1950, and was one of the first authors to popularize a character across multiple media, as he did with Tarzan s appearance in comic strips, movies, and merchandise. Residing in Hawaii at the time of the attack on Pearl Harbour in 1941, Burroughs was drawn into the Second World War and became one of the oldest war correspondents at the time. Edgar Rice Burroughs s popularity continues to be memorialized through the community of Tarzana, California, which is named after the ranch he owned in the area, and through the Burrough crater on Mars, which was named in his honour.