Three Men in a Boat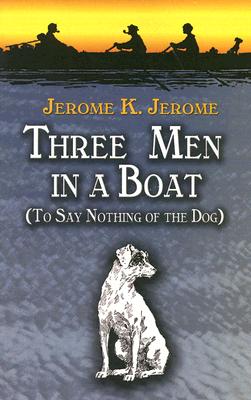 Three Men in a Boat
To Say Nothing of the Dog
Dover Publications, Paperback, 9780486451107, 135pp.
Publication Date: June 1, 2006
* Individual store prices may vary.
Buy at Local Store
Enter your zip code below to purchase from an indie close to you.
or
Buy Here
Description
George, William, and J. agree on one thing. They're overworked and need a rest. A week on "the rolling deep" -- they decide -- may be just the thing So off they go with Montmorency, the dog, anticipating the joys of long, lazy days during a glorious Victorian summer. What happens to these bungling bachelors on a two-week rowing excursion up the Thames provides fodder for one of the best-known classics of English humor.
Jerome's timeless comedy follows the trio's misadventures as they struggle with camping equipment and meal preparation, confront rampant hypochondria and unreliable weather, and contend with other disasters -- all of which trumpet simple truths that still resonate today.
About the Author
Jerome Klapka Jerome (2 May 1859 - 14 June 1927) was an English writer and humorist, best known for the comic travelogue Three Men in a Boat (1889). Other works include the essay collections Idle Thoughts of an Idle Fellow (1886) and Second Thoughts of an Idle Fellow; Three Men on the Bummel, a sequel to Three Men in a Boat; and several other novels. Jerome was born in Caldmore, Walsall, England. He was the fourth child of Marguerite Jones and Jerome Clapp (who later renamed himself Jerome Clapp Jerome), an ironmonger and lay preacher who dabbled in architecture. He had two sisters, Paulina and Blandina, and one brother, Milton, who died at an early age. Jerome was registered, like his father's amended name, as Jerome Clapp Jerome, and the Klapka appears to be a later variation (after the exiled Hungarian general Gyorgy Klapka). Owing to bad investments in the local mining industry, the family fell into poverty and debt collectors visited often, an experience Jerome described vividly in his autobiography My Life and Times (1926). The young Jerome attended St Marylebone Grammar School. He wished to go into politics or be a man of letters, but the death of his father when the younger Jerome was age 13 and of his mother when he was age 15 forced him to quit his studies and find work to support himself. He was employed at the London and North Western Railway, initially collecting coal that fell along the railway, and remained there for four years. In 1877, inspired by his older sister Blandina's love for the theatre, Jerome decided to try his hand at acting, under the stage name Harold Crichton. He joined a repertory troupe that produced plays on a shoestring budget, often drawing on the actors' own meagre resources - Jerome was penniless at the time - to purchase costumes and props. After three years on the road with no evident success, the 21-year-old Jerome decided he had had enough of stage life and sought other occupations. He tried to become a journalist, writing essays, satires and short stories, but most of these were rejected. Over the next few years he was a school teacher, a packer, and a solicitor's clerk. Finally, in 1885, he had some success with On the Stage - and Off, a comic memoir of his experiences with the acting troupe, followed by Idle Thoughts of an Idle Fellow, a collection of humorous essays which had previously appeared in the newly founded magazine, Home Chimes, the same magazine that would later serialise Three Men in a Boat.