The Everlasting Man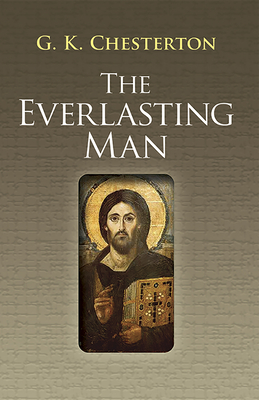 The Everlasting Man
Dover Publications, Paperback, 9780486460369, 269pp.
Publication Date: September 19, 2007
* Individual store prices may vary.
Buy at Local Store
Enter your zip code below to purchase from an indie close to you.
or
Buy Here
Description
This classic exploration of human history vis-a-vis its link to Christianity ponders the question: What makes human beings uniquely human? In this thoughtful response to the rampant social Darwinism of the early twentieth century, G. K. Chesterton explains how religion -- a blend of philosophy and mythology -- satisfies both the human intellect and the spirit, and sets man starkly apart from any other living creature.
Written in 1925, this enduring polemic still strikes a modern chord. Addressing evolution, feminism, and cultural relativism within the context of religion, the book also examines religious skepticism. How does one sustain belief in Jesus Christ -- and the Church -- when, throughout history, the key to religious truth has been constantly reshaped? According to Chesterton, the shape of the key is not important. What matters is that it fits the lock and opens the door. An emphatic affirmation of Christian faith, "The Everlasting Man" is leavened with the author's characteristic wit and wisdom, and appeals to the mind as well as the heart.
About the Author
Gilbert Keith Chesterton was born in London, England, in 1874. He went on to study art at the Slade School, and literature at University College in London. Chesterton wrote a great deal of poetry, as well as works of social and literary criticism. Among his most notable books are "The Man Who Was Thursday", a metaphysical thriller, and "The Everlasting Man", a history of humankind's spiritual progress. After Chesterton converted to Catholicism in 1922, he wrote mainly on religious topics such as "Orthodoxy" and "Heretics". Chesterton is most known for creating the famous priest-detective character Father Brown, who first appeared in "The Innocence of Father Brown". Chesterton died in 1936 at the age of 62.