Bare Bones Meditation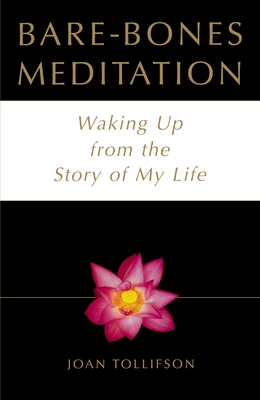 Bare Bones Meditation
Waking Up from the Story of My Life
Three Rivers Press (CA), Paperback, 9780517887929, 239pp.
Publication Date: September 24, 1996
* Individual store prices may vary.
Buy at Local Store
Enter your zip code below to purchase from an indie close to you.
or
Buy Here
Description
Born with only one hand, Joan Tollifson grows up feeling different, finds identity as a bisexual lesbian and a disability rights activist, but also sinks into drug addiction and alcoholism. She embraces Zen Buddhism and then a very bare-bones spirituality that has no form. Bare-Bones Meditation reveals the inner process of the mind in a new way, and Tollifson's account is beautifully written--intense and from the heart.
Praise For Bare Bones Meditation…
"An exquisitely honest book about an unconventional woman's search for truth in an age of doubt and anxiety--raucous, painful, and serene. I recommend it highly to every skeptic looking for companionship on his own rocky path--a wry voice of hard-earned wisdom to urgehim along the way."
--Mark Matousek, author of Sex Death Enlightenment

"I loved Joan's book. She's there on every page. Lively, ravishingly honest, funny, deeply serious, totally disarming. Her own foibles and obsessions are as transparently and tenderly rendered as her hard-won insights. She so precisely captures the ups and downs, the taste and texture of meditation practice, and the muddles we all get ourselves into. And the love."
--Lenore Friedman, author of Meetings with Remarkable Women

"Joan Tollifson gives us an unvarnished, exhilarating account of her struggle to make sense of her life. We can watch her muddy waters slowly settle into the 'right now, just as it is' understanding in which nothing is solved and nothing needs to be. Useful for all of us!"
-- Charlotte Joko Beck, author of Everyday Zen

"A wonderful piece of writing and meditation tetaching. Joan Tollifson moves decisively from self-preoccupation to self-knowing. She takes us with her, in writing that is simple, straightforward, and honest--at times excruciatingly so. The tenacity of certain stubborn forms of conditioning is treated brilliantly. Al who practice awareness must sooner or later face and see through such habit-energy.

This book also provides us with a rare and invaluable record of the teaching of Joan's remarkable teacher, Toni Packer. Joan shows us how she learns and tests these guidelines in the fire of her own life. It documents one person's courageous commitment to self discovery--to 'come-what-may' seeing. I was very moved.

I recommend this book to Zen, Vipassana, and nontraditional practitioners of mindfulness meditation. When the book ends, Joan Tollifson is in a strong and hard-earned position to take herself and all of us even deeper into the world of mind. She has the rest of her life to do that."
--Larry Rosenberg, Guiding Teacher, Cambridge Insight Meditation Center and Insight Meditation Society