Fashion System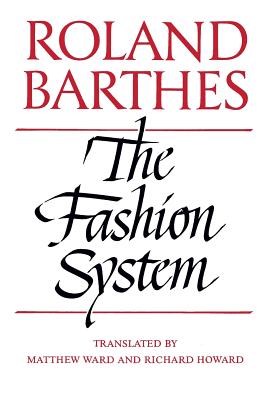 Fashion System
University of California Press, Paperback, 9780520071773, 351pp.
Publication Date: July 25, 1990
* Individual store prices may vary.
Buy Now
or
Shop Local
Enter your zip code below to purchase from an indie close to you.
Description
In his consideration of the language of the fashion magazinethe structural analysis of descriptions of women's clothing by writers about fashionBarthes gives us a brief history of semiology. At the same time, he identifies economics as the underlying reason for the luxuriant prose of the fashion magazine: "Calculating, industrial society is obliged to form consumers who don't calculate; if clothing's producers and consumers had the same consciousness, clothing would be bought (and produced) only at the very slow rate of its dilapidation.
About the Author
Roland Barthes (1915-1980) was a French cultural and literary critic, whose clever and lyrical writings on semiotics made structuralism one of the leading movements of the twentieth century. Barthes had a cult following and published seventeen books, including "Camera Lucida", "Mythologies", and "A Lover's Discourse".

Ward is a poet, critic, and translator. He was educated at Stanford, University College in Dublin (where he was a Fulbright Scholar), and Columbia. He taught several years at the Fieldston School in Riverdale, New York.

Brassai (born Gyula Halasz, 1899-1984) was a photographer, journalist, and author of photographic monographs and literary works, including "Letters to My Parents" and "Conversations with Picasso," both published by the University of Chicago Press.
Richard Howard, a professor at the School of the Arts at Columbia University, is an award-winning poet and translator. His translations include books by Gide, Cocteau, Giraudoux, De Beauvoir, Barthes, Cioran, and Proust, and Baudelaire's "Fleurs du Mal," for which he received the American Book Award.