Death Without Weeping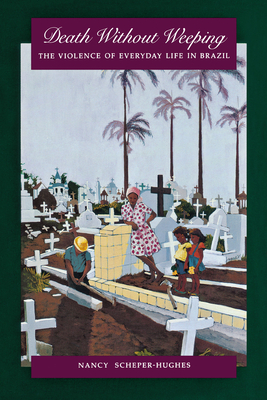 Death Without Weeping
Violence of Everyday Life in Brazil
University of California Press, Paperback, 9780520075375, 632pp.
Publication Date: November 9, 1993
* Individual store prices may vary.
Buy at Local Store
Enter your zip code below to purchase from an indie close to you.
or
Buy Here
Description
When lives are dominated by hunger, what becomes of love? When assaulted by daily acts of violence and untimely death, what happens to trust? Set in the lands of Northeast Brazil, this is an account of the everyday experience of scarcity, sickness and death that centres on the lives of the women and children of a hillside "favela." Bringing her readers to the impoverished slopes above the modern plantation town of Bom Jesus de Mata, where she has worked on and off for 25 years, Nancy Scheper-Hughes follows three generations of shantytown women as they struggle to survive through hard work, cunning and triage. It is a story of class relations told at the most basic level of bodies, emotions, desires and needs. Most disturbing - and controversial - is her finding that mother love, as conventionally understood, is something of a bourgeois myth, a luxury for those who can reasonably expect, as these women cannot, that their infants will live.
About the Author
Nancy Scheper-Hughes is Professor of Medical Anthropology at the University of California, Berkeley where she directs the doctoral program in Critical Studies in Medicine, Science, and the Body. Scheper-Hughes' lifework concerns the violence of everyday life examined from a radical existentialist and politically engaged perspective. Her examination of structural and political violence, of what she calls "small wars and invisible genocides" has allowed her to develop a so-called 'militant' anthropology, which has been broadly applied to medicine, psychiatry, and to the practice of anthropology. She is perhaps best known for her books on schizophrenia among bachelor farmers in County Kerry (Saints, Scholars and Schizophrenics: Mental Illness in Rural Ireland) and on the madness of hunger, maternal thinking, and infant mortality in Brazil (Death without Weeping: the Violence of Everyday Life in Brazil). During the early 1980s she undertook an ethnographic study on the deinstitutionalization of the severely mentally ill in South Boston and on the homeless mentally ill in Berkeley. In 1994-1995 Scheper-Hughes moved to South Africa to take up a temporary post as Chair of Anthropology at the Department of Social Anthropology at the University of Cape Town during the political transition. While there she began an on-going ethnographic study of the role of political and everyday violence in the pre and post-transition periods. She has written a series of essays to be published under the title Undoing: the Politics of the Impossible in the New South Africa. Her most recent books are: Commodifying Bodies (co-edited with Loic Waquant), 2002, London: Sage (Theory, Culture and Society series). (Commodifying Bodies will appear later this year in an Italian edition with Ombre Courte, Verona, Italia); and Violence in War and Peace: an Anthology (co-edited with Philippe Bourgois), 2003, London and Malden, Mass: Basil Blackwell. Scheper-Hughes has conducted research, written on, and been politically engaged in topics ranging from AIDS and human rights in Cuba, death squads and the extermination of street kids in Brazil, the Catholic Church, clerical celibacy, and child sex abuse, to the repatriation of the brain of a famous Yahi Indian, Ishi (kept as a specimen in the Smithsonian Institution) to the Pit River people of Northern California. Her most recent research is a multi-sited ethnographic study of the global traffic in humans for their organs which she interprets as a form of invisible and sacrificial violence. Her next book, The Ends of the Body: the Global Traffic in Organs, is to be published by Farrar, Straus & Giroux. She is co-founder and Director of Organs Watch, a medical human rights project and she is currently an advisor to the World Health Organization (Geneva) on issues related to global transplantation. Scheper-Hughes has lectured internationally and has been a research professor in residence at the Ecole des Hautes Etudes en Sciences in Paris in 1993 (and will take up that post again in the fall of 2004). Read the Berkeley News article, UC Berkeley anthropology professor working on organs trafficking, dated April 30, 2004.