Autobiography of Mark Twain, Volume 2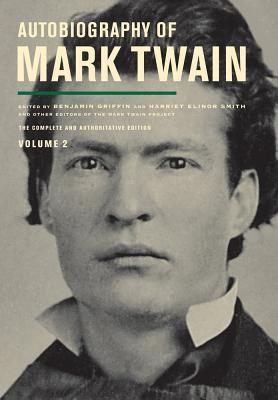 Autobiography of Mark Twain, Volume 2
The Complete and Authoritative Edition
University of California Press, Hardcover, 9780520272781, 776pp.
Publication Date: October 5, 2013
* Individual store prices may vary.
Buy Now
or
Shop Local
Enter your zip code below to purchase from an indie close to you.
Description
Mark Twain's complete, uncensored "Autobiography" was an instant bestseller when the first volume was published in 2010, on the centennial of the author's death, as he requested. Published to rave reviews, the "Autobiography" was hailed as the capstone of Twain's career. It captures his authentic and unsuppressed voice, speaking clearly from the grave and brimming with humor, ideas, and opinions.
The eagerly-awaited Volume 2 delves deeper into Mark Twain's life, uncovering the many roles he played in his private and public worlds. Filled with his characteristic blend of humor and ire, the narrative ranges effortlessly across the contemporary scene. He shares his views on writing and speaking, his preoccupation with money, and his contempt for the politics and politicians of his day. Affectionate and scathing by turns, his intractable curiosity and candor are everywhere on view.
Editors: Benjamin Griffin and Harriet E. Smith
Associate Editors: Victor Fischer, Michael B. Frank, Sharon K. Goetz and Leslie Diane Myrick

About the Author
Mark Twain, born Samuel Langhorne Clemens, was an American humorist and writer, who is best known for his enduring novels The Adventures of Tom Sawyer and Adventures of Huckleberry Finn, which has been called the Great American Novel. Raised in Hannibal, Missouri, Twain held a variety of jobs including typesetter, riverboat pilot, and miner before achieving nationwide attention for his work as a journalist with The Celebrated Jumping Frog of Calaveras County. He earned critical and popular praise for his wit and enjoyed a successful career as a public speaker in addition to his writing. Twain s works were remarkable for his ability to capture colloquial speech, although his adherence to the vernacular of the time has resulted in the suppression of his works by schools in modern times. Twain s birth in 1835 coincided with a visit by Halley s Comet, and Twain predicted, accurately, that he would go out with it as well, dying the day following the comet s return in 1910.

Benjamin Griffin and Harriet Elinor Smith are editors at the Mark Twain Project, which is housed within the Mark Twain Papers, the world's largest archive of primary materials by this major American writer. Under the direction of General Editor Robert H. Hirst, the Project's editors are producing the first comprehensive edition of all of Mark Twain's writings.