The Cambridge World History of Food 2 Part Boxed Hardback Set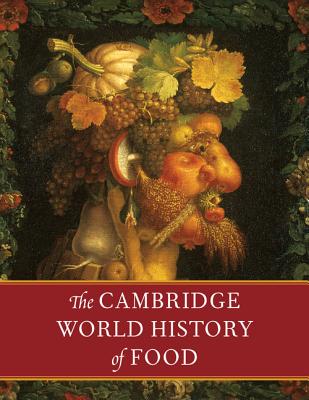 The Cambridge World History of Food 2 Part Boxed Hardback Set
Cambridge University Press, Boxed Set, 9780521402163, 2208pp.
Publication Date: October 16, 2000
* Individual store prices may vary.
Not Currently Available for Direct Purchase
or
Shop Local
Enter your zip code below to purchase from an indie close to you.
Description
An undertaking without parallel or precedent, this monumental two-volume work encapsulates much of what is known of the history of food and nutrition throughout the span of human life on earth. It constitutes a vast and essential chapter in the history of human health and culture. Ranging from the eating habits of our prehistoric ancestors to food-related policy issues we face today, this work covers the full spectrum of foods that have been hunted, gathered, cultivated, and domesticated; their nutritional makeup and uses; and their impact on cultures and demography. It offers a geographical perspective on the history and culture of food and drink and takes up subjects from food fads, prejudices, and taboos to questions of food toxins, additives, labeling, and entitlements. It culminates in a dictionary that identifies and sketches out brief histories of plant foods mentioned in the text--over 1,000 in all--and additionally supplies thousands of common names and synonyms for those foods. The essays in this volume are the work of 220 experts in fifteen countries, in fields from agronomy to zoology. Every chapter is accompanied by bibliographical references. The volumes are organized in the following sections: 1. A determination of what our Paleolithic ancestors ate during their stay on the planet (over 99 percent of the time humankind has lived on earth). 6 chapters 2. An extensive treatment of the domestication and development of each of humankind's staple foods. 60 chapters 3. The history of our dietary liquids from beer through soft drinks to water. 13 chapters 4. Studies on the discovery of vitamins, minerals, proteins, fats, and the essential fatty acids along with a look at what they do for us. 37 chapters 5. A history of food and drink for all of the countries in the world. In addition there is a chapter on culinary history. 23 chapters 6. Historical issues involving human health, such as nutrition and mortality decline, height and nutrition, infection and nutrition. 18 chapters 7. Contemporary food-related policy issues are treated in this penultimate section of the work. Examples include chapters on food labeling, food biotechnology and the RDAs. 13 chapters 8. The last section of the work is a food-plant dictionary with over 1,000 entries that emphasize history and usage. The dictionary also includes over 4,000 synonyms for the names of plant food. Here readers well-informed about potatoes or asparagus can learn about lesser-known or strictly regional foods such as ackee or zamia and--among the thousands of synonyms provided--can discover that an aubergine is an eggplant, that "swedes" are rutabagas, and that "bulgar" comes from bulghur, which means "bruised grain.
About the Author
fm.author_biographical_note2

Kenneth F. Kiple is a Distinguished University Professor Emeritus at Bowling Green State University in Ohio. His edited collections include The Cambridge Historical Dictionary of Disease (2003); The Cambridge World History of Food (2000, with Kriemhild Conee Ornelas); Biological Consequences of European Expansion 1450 1800 (1997, with Stephen V. Beck); Plague, Pox, and Pestilence: Disease in History (1997); The Cambridge History of World Disease (1993); and The African Exchange: Toward a Biological History of Black People (1987). Kiple is author of The Caribbean Slave: A Biological History (1984); Another Dimension to the Black Diaspora: Diet, Disease, and Racism (1981); and Blacks in Colonial Cuba 1774 1899 (1976, with Virginia Himmelsteib King). His considerable body of written works also includes numerous articles and essays in scholarly journals and books. His work has been supported with grants and fellowships from institutions including the Guggenheim Foundation, the National Endowment for the Humanities, the Fulbright Foundation, the American Council of Learned Societies, the American Philosophical Society and the National Institutes of Health.