B.U.G. (Big Ugly Guy)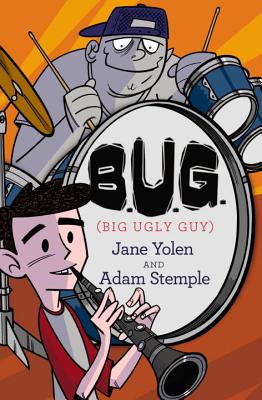 B.U.G. (Big Ugly Guy)
Dutton Juvenile, Hardcover, 9780525422389, 328pp.
Publication Date: March 21, 2013
* Individual store prices may vary.
Buy at Local Store
Enter your zip code below to purchase from an indie close to you.
or
Not Currently Available for Direct Purchase
Description
Sammy Greenbergwould rather talk back to The Boyz--a gang of bullies at his school--and get his head stuck in the toilet than constantly be afraid. But when his friend Skink gets beaten up so badlythat he has to go to the hospital, Sammy thinks he may be in over his head.He decides to builda golem--a mythical protector from Jewish folklore, made of clay and animated by the ineffable nameof God. But this monster doesn't justprotect him and Skink from The Boyz, heis alsoagreatdrummer for their rock-jazz-klezmer fusion band But golems come with warnings. They will protect you until they don't.
About the Author
Jane has been called the Hans Christian Andersen of America and the Aesop of the twentieth century. She sets the highest standard for the industry, not only in the meaningful body of work she has created, but also in her support of fellow authors and artists. Her books range from the bestselling How Do Dinosaurs series to the Caldecott winning Owl Moon to popular novels such as The Devil s Arithmetic, Snow in Summer, and The Young Merlin Trilogy, to award-winning books of poetry such as Grumbles from the Forest, and A Mirror to Nature. In all, she has written over 335 books (she s lost count), won numerous awards (one even set her good coat on fire), and has been given six honorary doctorates in literature. For more information, please visit www.janeyolen.com.

A working rock-and-roll guitarist in bands such as the Tim Malloys, Cats Laughing, and Boiled in Lead, Adam Stemple has collaborated with his mother Jane Yolen on several music books for children, including "The Laptime Song and Play Book" and "Hark! A Christmas Sampler".
Praise For B.U.G. (Big Ugly Guy)…
"It's funny and scary and thrilling"--Kirkus

"Yolen and Stemple weave a magical coming-of-age story that addresses the themes of bullying, friendship, good versus evil, first crushes, and making good decisions."--Booklist