Peace, Love & Baby Ducks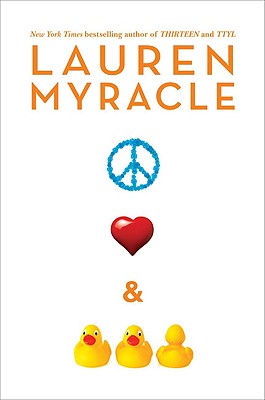 Peace, Love & Baby Ducks
Dutton Books, Hardcover, 9780525477433, 292pp.
Publication Date: May 14, 2009
* Individual store prices may vary.
Buy at Local Store
Enter your zip code below to purchase from an indie close to you.
or
Buy Here
Description
Growing up in a world of wealth and pastel-tinted entitlement, fifteen-year-old Carly has always relied on the constancy and authenticity of her sister, Anna. But when fourteen-year-old Anna turns plastic-perfect-pretty over the course of a single summer, everything starts to change. And "there are boys involved," complicating things as boys always do. With warmth, insight, and an unparalleled gift for finding humor even in stormy situations, beloved author Lauren Myracle dives into the tumultuous waters of sisterhood and shows that even very different sisters can learn to help each other stay afloat.
About the Author
When Lauren Myracle was thirteen, she spent hours lying on her bed, staring at the cracks on her ceiling and wishing so hard to be magic. She wanted to bend spoons with her mind, talk to her sister telepathically, and rearrange her molecules so she could walk through walls. She wanted fairies to leave gumdrops on her windowsill. She wanted well-known paths to unexpectedly lead to mystical lands and times. She also wished she would grow up to become a writer and that part came true! (Which is not to say the other parts didn t. . . .) She s written many books for tweens and teens, including the bestselling Winnie Years series and the Flower Power series. She lives with her family in Colorado, and she thinks life is the most magical adventure of all.