Gameboard of the Gods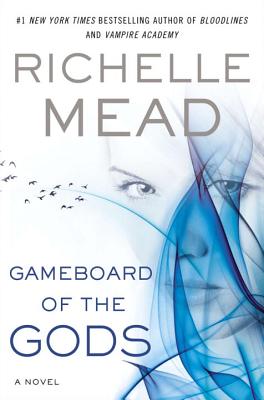 Gameboard of the Gods
Dutton Books, Hardcover, 9780525953685, 448pp.
Publication Date: June 4, 2013
* Individual store prices may vary.
Buy at Local Store
Enter your zip code below to purchase from an indie close to you.
or
Not Currently Available for Direct Purchase
Description
Richelle Mead, the #1 "New York Times, ""USA Today," and "Wall Street Journal" bestselling author of the Vampire Academy and Bloodlines YA series--whose books have sold more than one million copies in hardcover--delivers the first novel in her new series, "Gameboard of the Gods."
The first installment of Richelle Mead's Age of X series has all the elements that have made her bestselling Vampire Academy and Bloodlines series such megasuccesses: sexy, irresistible characters; romantic and mythological intrigue; and relentless action and suspense.
In a futuristic world nearly destroyed by religious extremists, Justin March lives in exile after failing in his job as an investigator of religious groups and supernatural claims. But Justin is given a second chance when Mae Koskinen comes to bring him back to the Republic of United North America (RUNA). Raised in an aristocratic caste, Mae is now a member of the military's most elite and terrifying tier, a soldier with enhanced reflexes and skills.
When Justin and Mae are assigned to work together to solve a string of ritualistic murders, they soon realize that their discoveries have exposed them to terrible danger. As their investigation races forward, unknown enemies and powers greater than they can imagine are gathering in the shadows, ready to reclaim the world in which humans are merely game pieces on their board.

About the Author
Richelle Mead lives in Seattle and is the author of the Vampire Academy series. When not writing, she can be found watching bad movies, inventing recipes, and buying far too many dresses.
Praise For Gameboard of the Gods…
"After years of YA, the author has finally returned to her adult roots with an ambitious (and sexy!) sci-fi outing." - EntertainmentWeekly.com

"This brilliant book is a miracle. Think American Gods with the romantic heart of Vampire Academy. What's the point of world-building if you aren't building something and someone to love? I'm in love with every character in this book. How do I know? When I got to the last page I turned to the first and started again, thinking this is why I read."–Margaret Stohl, New York Times bestselling author of Icons

"Vivid world-building, whip-fast pacing, and a layered plot combine to make Gameboard of the Gods a riveting read!"– Melissa Marr, New York Times bestselling author of The Arrivals

"The book is fast paced and suspenseful...A promising first book in a projected series." – Booklist

"Provocative and dark—Gameboard of the Gods is epic in scale and impossible to put down."– Kami Garcia, #1 New York Times bestselling coauthor of the Beautiful Creatures novels & author of Unbreakable

"Why you should read it: ....It's dark, it's fantastical, and the chemistry is just wow!"  – USAToday.com Happy Ever After

Praise for Richelle Mead and her novels

"An engaging read, with an unusually tangible, believable, living story world, featuring a protagonist of unexpected depth and sympathy."
--Jim Butcher, New York Times bestselling author of the Dresden Files, on Succubus Blues

"Writing this book tempts me to believe in angels...or deals with the devil. Succubus Blues is original, exciting, seductive stuff, filled with characters I'd sell my soul to meet."
--Rachel Caine, New York Times bestselling author of the Morganville Vampires series

"The most exciting yet...Mead's storytelling improves with each installment as she keeps readers on the edge of their seats while adding a few unexpected twists."
--Associated Press on Blood Promise, the fourth installment in the Vampire Academy series

"Mead's absorbing, debut YA novel...blends intricately detailed fantasy with a contemporary setting, teen-relevant issues, and a diverse...cast of supporting characters."
--Booklist on Vampire Academy