Expatriates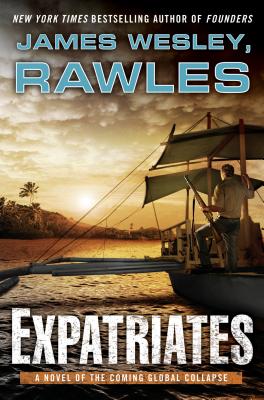 Expatriates
A Novel of the Coming Global Collapse
Dutton Books, Hardcover, 9780525953906, 303pp.
Publication Date: October 1, 2013
* Individual store prices may vary.
Buy at Local Store
Enter your zip code below to purchase from an indie close to you.
or
Not Currently Available for Direct Purchase
Description
In the latest survivalist thriller from founder of survivalblog.com and "New York Times" bestselling author James Wesley, Rawles, two expat families struggle for their very survival in the midst of a global economic collapse.
When the United States suffers a major socioeconomic collapse, a power vacuum sweeps the globe. A newly radicalized Islamic government rises to power in Indonesia, invades the Philippines, East Timor, Papua New Guinea, and finally northern Australia. No longer protected by American military interests, Australia must repel an invasion alone.
In the thick of these political maneuvers, an American family of missionaries living in the Philippines and a Texan petroleum engineer in Australia must face the fear of being strangers in a world in flux. Are their relatives back home healthy and safe? Will they ever see them again?
In its depiction of the authentic survivalist skills and techniques needed to survive a global socioeconomic meltdown, "Expatriates" is as informative as it is suspense-filled.
About the Author
James Wesley, Rawles has been an enthusiastic survivalist since his teenage years. He is now a survivalist author and lecturer and the editor of www.SurvivalBlog.com. He has a Bachelor of Arts degree from San Jose State University with minor degrees in military science, history, and military history. A former U.S. Army intelligence officer who held a Top Secret security clearance (with Special Background Investigation) and access to Sensitive Compartmented Information (SCI), he was awarded Officer specialty 35A (tactical all-source intelligence officer), and the additional skill identifier 5M (electronic warfare officer). He achieved the rank of Captain, attended the Army NBC defense officer's course, as well as Northern Warfare School at Fort Greeley, Alaska.
Praise For Expatriates…
Praise for EXPATRIATES

"A wonderful work of fiction" - Alphecca

"Expatriates doesn't disappoint in the technical nor page-turning sense" - Survivor Jane

"Rawles is an amazingly gifted author who has singlehandedly reignited the postapocalyptic thriller. Survivors is an instant classic." – Brad Thor, #1 New York Times bestselling author of Full Black

"An incredible tale." – AmongTheLeaves.com

"Survivors, painting a realistic picture of life with no plan to survive the harsh realities of a crash, has given me a glimpse into how the other half lives, and how I can further prepare to help my fellow man." – Paratus Familia Blog

"It's [three hundred and seventy] pages of adventure, excitement, and page-turning thrills." – IfItHitsTheFan.com

"Rawles' Survivors is well worth reading. . . well-written and informative, and speaks with an honesty and bluntness often missing from the policy prognotications of the political elite." – The New American