Paddle Your Own Canoe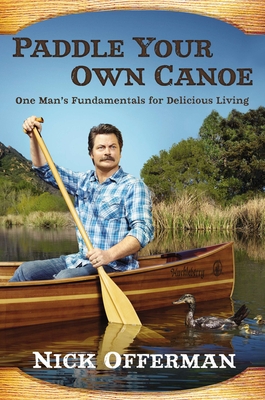 Paddle Your Own Canoe
One Man's Fundamentals for Delicious Living
Dutton Books, Hardcover, 9780525954217, 340pp.
Publication Date: October 1, 2013
* Individual store prices may vary.
Buy at Local Store
Enter your zip code below to purchase from an indie close to you.
or
Buy Here
Description
"Parks and Recreation"actor Nick Offerman shares his humorous fulminations on life, manliness, meat, and much more in his first book.
Growing a perfect moustache, grilling red meat, wooing a woman who better to deliver this tutelage than the always charming, always manly Nick Offerman, best known as"Parks and Recreation"'s Ron Swanson? Combining his trademark comic voice and very real expertise in woodworking he runs his own woodshop "Paddle Your Own Canoe"featurestalesfrom Offerman's childhoodin small-town Minooka, Illinois I grew up literally in the middle of a cornfield to his theater days in Chicago, beginnings as a carpenter/actor and the hilarious and magnificent seduction of his now-wife Megan Mullally.It also offershard-bitten battle strategies in the arenas of manliness, love, style, religion, woodworking, and outdoor recreation, among many other savory entrees.
A mix of amusing anecdotes, opinionated lessons and rants, sprinkled with offbeat gaiety, "Paddle Your Own Canoe"will not only tickle readers pink but may also rouse them to put down their smart phones, study a few sycamore leaves, and maybe even hand craft (and paddle) their own canoes.
About the Author
Nick was taught to swing a hammer and countless other tools by his Dad, his grandfathers, and his Uncles Dan and Don of Roberts Brothers Farms. In theatre school at the University of Illinois, he used these skills to begin working in the scene shop, under the tutelage of Kenny Egan. This paid off handsomely when Nick began his professional theatre career in Chicago, as he offset his meager acting income with building scenery and props for large equity theaters. By the time he moved to Los Angeles, he d opened his own modest shop in a warehouse and begun collecting tools. Once in LA, Nick couldn t find as much scenery work, so he turned to building decks and cabins with his longtime friend Martin McClendon, another Illinois alumnus. Together, they fell under the spell of old-world furniture joinery, and, with Marty s help, Nick opened his shop soon after, where he continues to build furniture, small boats, and anything else that tickles his fancy.
Praise For Paddle Your Own Canoe…
"It is thought-provoking, profane, and frequently hilarious." - Publishers Weekly

"Not only does he recall his life, but he also offers chuckle-worthy anecdotes, diagrams, even a haiku...Ron Swanson would be proud." - Booklist