Big Data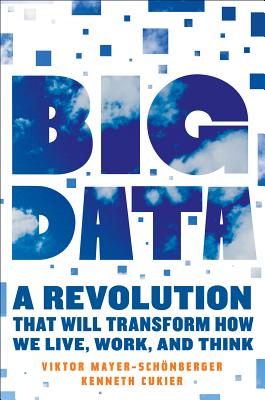 Big Data
A Revolution That Will Transform How We Live, Work, and Think
Eamon Dolan/Houghton Mifflin Harcourt, Hardcover, 9780544002692, 242pp.
Publication Date: March 2013
* Individual store prices may vary.
Not Currently Available for Direct Purchase
or
Shop Local
Enter your zip code below to purchase from an indie close to you.
Description
A revelatory exploration of emerging trends in "big data"—our newfound ability to gather and interpret vast amounts of information—and the revolutionary effects these developments are producing in business, science, and society at large.
About the Author
VIKTOR MAYER-SCHONBERGER is Professor of Internet Governance and Regulation at the Oxford Internet Institute, Oxford University.The co-author of Big Data: A Revolution That Will Transform How We, Live, Work, and Think, he has published over a hundred articles and eight other books, including "Delete: The Virtue of Forgetting in the Digital Age". He is on the advisory boards of corporations and organizations around the world, including Microsoft and the World Economic Forum.

KENNETH CUKIER is the Data Editor of the "Economist" and a prominent commentator on developments in big data. His writings on business and economics have appeared in "Foreign Affairs", the "New York Times", the "Financial Times", and elsewhere.
Praise For Big Data…
"Every decade, there are a handful of books that change the way you look at everything. This is one of those books. Society has begun to reckon the change that big data will bring. This book is an incredibly important start."
—Lawrence Lessig, Roy L. Furman Professor of Law, Harvard Law School, and author of Remix and Free Culture
"This brilliant book cuts through the mystery and the hype surrounding big data.
A must-read for anyone in business, information technology, public policy, intelligence, and medicine. And anyone else who is just plain curious about the future."
—John Seely Brown, former Chief Scientist, Xerox Corp., and head of Xerox Palo Alto Research Center
"Big Data breaks new ground in identifying how today's avalanche of information fundamentally shifts our basic understanding of the world. Argued boldly and written beautifully, the book clearly shows how companies can unlock value, how policymakers need to be on guard, and how everyone's cognitive models need to change."

—Joi Ito, Director of the MIT Media Lab
"Big Data is a must-read for anyone who wants to stay ahead of one of the key trends defining the future of business."

—Marc Benioff, Chairman and CEO, salesforce.com
"An optimistic and practical look at the Big Data revolution — just the thing to get your head around the big changes already underway and the bigger changes to come."

—Cory Doctorow, boingboing.com
"Just as water is wet in a way that individual water molecules aren't, big data can reveal information in a way that individual bits of data can't. The authors show us the surprising ways that enormous, complex, and messy collections of data can be used to predict everything from shopping patterns to flu outbreaks."

—Clay Shirky, author of
Cognitive Surplus
and
Here Comes Everybody
"The book teems with great insights on the new ways of harnessing information, and offers a convincing vision of the future. It is essential reading for anyone who uses — or is affected by — big data."

—Jeff Jonas, IBM Fellow & Chief Scientist, IBM Entity Analytics
Thursday, Mar 7, 2013
Companies and governments have access to an unprecedented amount of digital information, much of it personal: what we buy, what we search for, what we read online. Kenneth Cukier, co-author of the book Big Data, describes how data-crunching is becoming the new norm. More at NPR.org