College (Un)Bound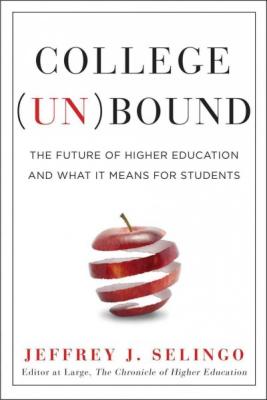 College (Un)Bound
The Future of Higher Education and What It Means for Students
New Harvest, Hardcover, 9780544027077, 256pp.
Publication Date: May 7, 2013
* Individual store prices may vary.
Buy at Local Store
Enter your zip code below to purchase from an indie close to you.
or
Buy Here
Description
"What is the value of a college degree?
"
The four-year college experience is as American as apple pie. So is the belief that higher education offers a ticket to a better life. But with student-loan debt surpassing the $1 trillion mark and unemployment of college graduates at historic highs, people are beginning to question that value.
In "College (Un)bound, " Jeffrey J. Selingo, editor at large of the "Chronicle of Higher Education, " argues that America's higher education system is broken. The great credential race has turned universities into big business and fostered an environment where middle-tier colleges can command elite university-level tuition while concealing staggeringly low graduation rates, churning out graduates with few of the skills needed for a rapidly evolving job market.
Selingo not only turns a critical eye on the current state of higher education but also predicts how technology will transform it for the better. Free massive online open courses (MOOCs) and hybrid classes, adaptive learning software, and the unbundling of traditional degree credits will increase access to high-quality education regardless of budget or location and tailor lesson plans to individual needs. One thing is certain the Class of 2020 will have a radically different college experience than their parents.
Incisive, urgent, and controversial, "College (Un)bound" is a must-read for prospective students, parents, and anyone concerned with the future of American higher education.
About the Author


Jeffrey J. Selingo is the leading authority on higher education worldwide and editor at large for The Chronicle of Higher Education. He frequently speaks before national higher-education groups and appears regularly on regional and national radio and television programs, including NPR, PBS, ABC, MSNBC, and CBS. His writing on higher education and technology has appeared in the New York Times, the Washington Post, and the Huffington Post. The National Magazine Awards, Education Writers Association, Society of Professional Journalists, and the Associated Press have recognized him for his work. He is a senior fellow at Education Sector, an independent education policy think tank.
Wednesday, May 8, 2013
Jeffrey Selingo, an editor with The Chronicle of Higher Education, argues that American colleges have lost their way. In College (Un)bound, he describes the challenges facing American higher education and takes a close look at what college students are getting in return for their tuition. More at NPR.org