Short Nights of the Shadow Catcher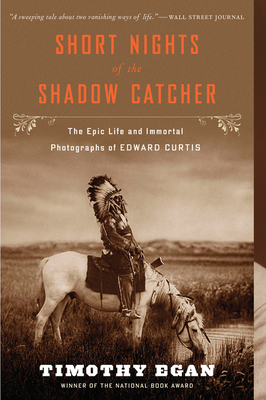 Short Nights of the Shadow Catcher
The Epic Life and Immortal Photographs of Edward Curtis
Mariner Books, Paperback, 9780544102767, 370pp.
Publication Date: August 6, 2013
* Individual store prices may vary.
Shop Local
Enter your zip code below to find indies closest to you.
Description
A vivid exploration of one man's lifelong obsession with an idea . . . Egan's spirited biography might just bring Curtis] the recognition that eluded him in life. "Washington Post "
Edward Curtis was charismatic, handsome, a passionate mountaineer, and a famous portrait photographer, the Annie Leibovitz of his time. He moved in rarefied circles, a friend to presidents, vaudeville stars, leading thinkers. But when he was thirty-two years old, in 1900, he gave it all up to pursue his Great Idea: to capture on film the continent's original inhabitants before the old ways disappeared.
Curtis spent the next three decades documenting the stories and rituals of more than eighty North American tribes. It took tremendous perseverance ten years alone to persuade the Hopi to allow him to observe their Snake Dance ceremony. And the undertaking changed him profoundly, from detached observer to outraged advocate. Curtis would amass more than 40,000 photographs and 10,000 audio recordings, and he is credited with making the first narrative documentary film. In the process, the charming rogue with the grade school education created the most definitive archive of the American Indian.
A darn good yarn. Egan is a muscular storyteller and his book is a rollicking page-turner with a colorfully drawn hero. "San Francisco Chronicle"
"A riveting biography of an American original." "Boston Globe
About the Author
TIMOTHY EGANis a Pulitzer Prize winning reporter and the author ofseven books, most recentlyShort Nights of the Shawdow Catcher: The Epic Life and Immortal Photographs of Edward Curtis.His previous books include TheWorst Hard Time, which won a National Book Award and was named a New York Times Editors Choice, andThe Big Burn: TeddyRoosevelt and theFire ThatSaved America, aNew York Timesbestseller and winner of the Pacific Northwest BooksellersAward and the Washington State Book Award.Heis an online op-ed columnist for the New York Times, writing his "Opinionator" feature once a week. He isa third-generation Westerner andlives in Seattle.