Fast Forward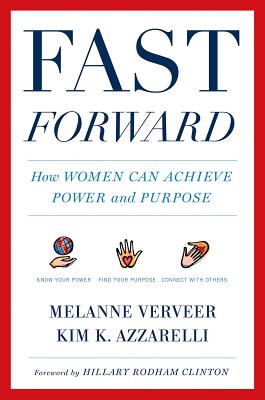 Fast Forward
How Women Can Achieve Power and Purpose
Houghton Mifflin, Hardcover, 9780544527195, 256pp.
Publication Date: October 6, 2015
* Individual store prices may vary.
Buy at Local Store
Enter your zip code below to purchase from an indie close to you.
or
Buy Here
Description
Learn how some of the world's most inspiring women are using their growing economic power to create success and meaning in their lives while building a better world. . . and how you can too.

Important conversations about leaning in, work/life balance and empowering women and girls around the world have energized a generation of women.Fast Forward, by two women leaders whose experience spans corporate America, public service, and global diplomacy, takes the next step. Through interviews with a network of more than seventy trailblazing women, Fast Forwardshows women how to accelerate their growing economic power and combine it with purpose to find both success and meaning in their lives.

Companies, countries, and organizations the world over are waking up to today's new reality. Women control the lion's share of purchasing power and are increasingly essential to competitiveness. The age of women's transformative economic influence has finally arrived, and women are using their power for purpose, redefining what power and success mean in the process. Through clear, practical advice and personal stories of women around the world including Hillary Clinton, Geena Davis, Christine Lagarde, and Diane von Furstenberg Fast Forwardshows every woman how to know her power, find her purpose, and connect with others to achieve her life's goals.
www.senecawomen.com

Advance praise for Fast Forward

"Fast Forward shows us how leaders at every level can use their power and purpose to help more and more women achieve their dreams for a better life."
Hillary Rodham Clinton


"We are all capable of great things, even world-changing things, if we take inspiration from others and join together to get it done. We are witnessing an awakening to the justice of civil rights for women in our time. You can feel it is imminent, and it will change the world when it is accomplished. Here are stories of a few women who have dared to imagine the day, and worked to make it happen. Let them inspire you."
MerylStreep, actor and activist

Alife filled with purpose is the greatest gift we can give to ourselves - andto others.Fast Forwardshows women how to lead lives ofpurpose and meaning, so that they, and our world, can thrive.
Arianna Huffington, co-founder andeditor-in-chief, Huffington Post


As I have travelled the world, I've seen the incredible strength and resilience of women everywhere, working at every level. If there was ever a doubt that our moment is now, this book dispels it.Fast Forwardshows every woman how she can empower herself and her community, and why all of us will be better for it. Women are the growing force for progress in the 21st century.
Madeleine Albright, former Secretary of State


"What is life without a sense of purpose? Any woman who's asked herself this question must read Fast Forward, filled with inspiring stories of women who've achieved power in their own lives and used it to make a difference for others, especially other women and girls."
Maria Shriver, author and journalist


"The stories in this inspirational book serve as a powerful reminder that, with the right support, women can become an unstoppable force in their communities and economies. It is a rousing call to action for anyone who cares about creating a more equal world. Unleashing the full potential of women is not an option - it is an imperative."
Cherie Blair, founder, Cherie Blair Foundation for Women


"I love this book. It tells the stories of ingenious women who took the circumstances around them and created successful companies and purpose in their lives, while at the same time recognizing their own power to lift other women up, supporting both economic growth and social progress all over the world. It's an inspiring wake-up call to action, and once you're fired up, longing to find your own power and potential, it gives you a tool kit of information as to how you can begin. Brilliant."
Sally Field, actor and activist


"Fast Forward gives all of us hope through the inspiring examples of pioneering women in global leadership, public service, and the corporate world - a path forged by Melanne Verveer since she helped Hillary Clinton transform the concept of women's rights in Beijing in 1995. Verveer and co-author Kim Azzarelli share their practical experience with new insights into how we can all lean even further forward. A must read for women - and men - who believe strong, educated women and girls are the key to advancing societies."
Andrea Mitchell, Chief Foreign AffairsCorrespondent, NBC News


Thestories of the remarkable women chronicled inFast Forwardareboth inspiring and instructive, making it must-read for anyone interested inleading successfully with purpose in the 21st century.Fast Forwardisalso areminder that progress and gender parity are inextricably linked andthat if we want a society that operates at its best, we have to work for both.
Ajay Banga, CEO, MasterCard


InFastForward, we are reminded why Melanne Verveer and Kim Azzarelli are twoleading 'sheroes' of the global women's movement. The book is chock-full ofwise and clever advice for women and men committed toempowering women to reachtheir full potential. You will be inspired by their profiles of determinedwomen of resilience, grit and passion to change the world. Brava
Darren Walker, president, Ford Foundation


A durable contribution to the continued efforts to effectchange for women.
Kirkus Reviews


An] empowering work about women's valuable contributions to theglobal economy An inspiring foreword by Hillary Clinton bolsters the authors message that women, working together, can accomplish anything.
PublishersWeekly


Praise For Fast Forward…
"We are all capable of great things, even world-changing things, if we take inspiration from others and join together to get it done. We are witnessing an awakening to the justice of civil rights for women in our time. You can feel it is imminent, and it will change the world when it is accomplished. Here are stories of a few women who have dared to imagine the day, and worked to make it happen. Let them inspire you."
—Meryl Streep

"A life filled with purpose is the greatest gift we can give to ourselves — and to others. Fast Forward shows women how to lead lives of purpose and meaning, so that they, and our world, can thrive."
—Arianna Huffington

"As I have travelled the world, I've seen incredible strength and resilience of women everywhere, working at every level. If there was ever a doubt that our moment is now, this book dispels it. Fast Forward shows every woman how she can empower herself and her community, and why all of us will be better for it. Women are the growing force for progress in the 21st century."
—Madeleine Albright

"What is life without a sense of purpose? Any woman who's asked herself this question must read Fast Forward, filled with inspiring stories of women who've achieved power in their own lives and used it to make a difference for others, especially other women and girls."
—Maria Shriver

"The stories in this inspirational book serve as a powerful reminder that, with the right support, women can become an unstoppable force in their communities and economies. It is a rousing call to action for anyone who cares about creating a more equal world. Unleashing the full potential of women is not an option – it is an imperative."
—Cherie Blair, founder, Cherie Blair for Women

"I love this book. It tells the stories of ingenious women who took the circumstances around them and created successful companies and purpose in their lives, while at the same time recognizing their own power to lift other women up, supporting both economic growth and social progress all over the world. It's an inspiring wake-up call to action, and once you're fired up, longing to find your own power and potential, it gives you a tool kit of information as to how you can begin. Brilliant."
—Sally Field

"Fast Forward gives all of us hope through the inspiring examples of pioneering women in global leadership, public service, and the corporate world — a path forged by Melanne Verveer since she helped Hillary Clinton transform the concept of women's rights in Beijing in 1995. Verveer and co-author Kim Azzarelli share their practical experience with new insights into how we can all lean even further forward. A must read for women — and men — who believe strong, educated women and girls are the key to advancing societies."
—Andrea Mitchell, NBC News