The Voyage of the Frog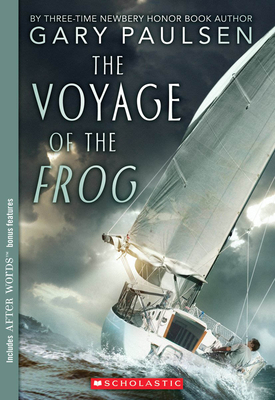 The Voyage of the Frog
Scholastic Paperbacks, Paperback, 9780545085359, 141pp.
Publication Date: March 2009
* Individual store prices may vary.
Buy Now
or
Shop Local
Enter your zip code below to purchase from an indie close to you.
Description
David thought he was alone, that the ocean around him was all there was of the world. The wind screamed, the waves towered, and his boat, the twenty-two foot fiberglass FROG, skidded and bucked and, each moment, filled deeper and grew heavier with sea water.
David thought surely he was dead at fourteen. His uncle Owen, who had taught him about sailing safely, would be so angry. Owen had died only days ago, his last wish for David to take the FROG out on his own, and sail her beyond sight of the coast, and once there scatter Owen's ashes.
David had done this the evening before, but he hadn't thought of a storm roaring across the Pacific, or of the terror of being alone later in the dark hundreds of miles from home and his parents, alone with no radio or flares and little food. He hadn't thought of a shark attacking, or of the four killer whales, or the oil tanker large as a city about to sink him and the FROG. . . .
But in fact, David wasn't alone at all. He'd had the FROG as a partner from the first -- his uncle's guiding spirit. He had only to learn that.
About the Author
Gary Paulsen is the distinguished author of many critically acclaimed books for young people, including three Newbery Honor Books: The Winter Room, Hatchet, and Dogsong. He won the Margaret A. Edwards Award given by the ALA for his lifetime achievement in young adult literature. Among his Random House books are Road Trip (written with his son, Jim Paulsen); Vote; Crush; Flat Broke; Liar, Liar; Paintings from the Cave; Woods Runner; Masters of Disaster; Lawn Boy; Lawn Boy Returns; Notes from the Dog; Mudshark; The Legend of Bass Reeves; The Amazing Life of Birds; Molly McGinty Has a Really Good Day; How Angel Peterson Got His Name; Guts: The True Stories Behind Hatchet and the Brian Books; The Beet Fields; Soldier s Heart; Brian s Return, Brian s Winter, and Brian s Hunt (companions to Hatchet); Father Water, Mother Woods; and five books about Francis Tucket s adventures in the Old West. Gary Paulsen has also published fiction and nonfiction for adults. He divides his time between his home in Alaska, his ranch in New Mexico, and his sailboat on the Pacific Ocean. You can visit him on the Web at GaryPaulsen.com.