The Kiss Box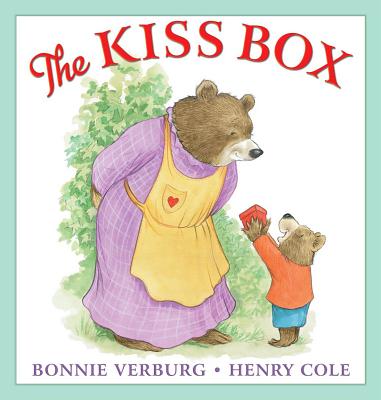 The Kiss Box
Orchard Books, Hardcover, 9780545112840, 32pp.
Publication Date: December 1, 2011
* Individual store prices may vary.
Buy at Local Store
Enter your zip code below to purchase from an indie close to you.
or
Buy Here
Description
A reassuring story about separation and love

In this soothing love story between mother and child, Mama Bear offers various vessels to contain their love while they are apart--but none seem right. It's not until Little Bear suggests that they make each other a Kiss Box--filled with a hundred kisses--that they are able to stay connected--no matter where they are.

Whether it be an errand to the grocery store, a business trip, or the first day of school, this is a tender reminder that we are always together where it matters most: in our hearts.
About the Author


Henry Cole has illustrated more than fifty books for children, including "And Tango Makes Three", "Oink?", and "Little Bo in France". A former elementary school teacher, he now writes and paints full time.
Praise For The Kiss Box…
This Little Bear isn\u2019t the same one made famous by Else Holmelund Minarik and Maurice Sendak, nor is he Martin Waddell\u2019s Little Bear, but he is certainly of the same ilk as those beloved characters. Similar in tone and theme to Minarik\u2019s classic series, this is for slightly younger readers, and it is a bit simpler with a briefer text. The focus here is on Little Bear and Mama Bear and their upcoming separation (Mama Bear must go out for the afternoon). Softly colored pencil-and-watercolor illustrations portray bucolic, quotidian scenes: Mama Bear pushing Little Bear on a swing, the two fishing together, a picnic in a field. Throughout, Mama Bear reassures Little Bear: \u201c\u2018I will think about you all the time,\u2019 said his mama, \u2018no matter where I am or what I do.\u2019\u201d Together they work out a solution for his separation anxiety: something to carry kisses in. The \u201cStoryteller\u2019s Note\u201d at the end makes explicit what many parental readers will already have surmised—that the kiss box is as helpful for mamas as it is for the cubs they miss.

— Diane Foote, Booklist


In this sweet story about separation anxiety, Mama Bear and Little Bear find a way to send kisses to each other when they are apart.

The tale begins with a familiar concern of the intended audience: \u201cMama Bear was always home, and that\u2019s how Little Bear liked it. But sooner or later, all mama bears need to go away, even if it\u2019s just for a little while.\u201d Of course, this troubles Little Bear. What ensues is a series of touching scenes in which Little Bear and his mama establish just how much she loves him, how Little Bear will remain in her thoughts and ultimately how they can keep the many kisses they send to each other close by. Little Bear\u2019s brilliant idea is to make boxes to hold their kisses (represented as tiny paper hearts). Debut picture-book author Verburg structures the story, inspired by her personal experience, with a steady, soothing pace. Cole complements the language beautifully with watercolor and colored-pencil illustrations evoking the classic joys of childhood: enjoying a tree swing, fishing at a pond and sharing a yummy picnic lunch. Ever-patient Mama Bear and charming Little Bear remain the focus on each framed spread. The large font and generous spacing of the text should extend the book\u2019s appeal to newly independent readers as well.

Similar in subject matter to Audrey Penn\u2019s The Kissing Hand, illustrated by Ruth E. Harper and Nancy M. Leak (1993), but a whole lot more artful, this fresh take will motivate younger children to create boxes of their own.

— Kirkus


\u201c[S]ooner or later, all mama bears need to go away, even if it\u2019s just for a little while,\u201d writes debut author Verburg, founder and editorial director of Scholastic\u2019s Blue Sky Press imprint. But separation anxiety is no little thing—how can Little Bear be assured that out of sight doesn\u2019t mean out of mind? Mama Bear has a couple of ideas, but Little Bear comes up with the best one: he creates the titular box that he fills with a hundred kisses (in the form of cutout hearts), and has Mama Bear do the same. Whenever they miss one another, they can hold the box close or even open it up to \u201csend kisses back and forth.\u201d Verburg handles her emotionally freighted material (based on personal experience, according to the endnote) with a light, patient touch, giving Little Bear\u2019s qualms their full due before introducing his solution. Cole\u2019s (the Big Chickens series) watercolor and colored pencil cartoons are friendly and familiar—there\u2019s something very reassuring in the understated emotion of his portrayals and the graceful beauty of his outdoor settings.

— Publishers Weekly