Captain Underpants and the Terrifying Return of Tippy Tinkletrousers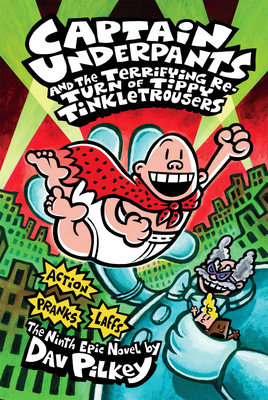 Captain Underpants and the Terrifying Return of Tippy Tinkletrousers
Scholastic, Hardcover, 9780545175340, 290pp.
Publication Date: August 28, 2012
* Individual store prices may vary.
Buy Now
or
Shop Local
Enter your zip code below to purchase from an indie close to you.
Description
Tra-la-laaa! Captain Underpants is back in an all-new epic adventure that's the zaniest, funniest, outrageousest, and time-travelingiest yet!

When we last saw our heroes, George and Harold, they were under arrest and headed for prison. Then Harold foolishly uttered the fateful words "What could be worse than going to jail for the rest of our lives?" and changed the course of human history.

In this ninth epic novel, Dav Pilkey takes readers back in time to the carefree days of kindergarten, when the worst thing George and Harold had to face was NOT evil mad scientists or alien cafeteria ladies but a sixth-grade bully named Kipper Krupp, the nephew of their clueless school principal. And because George and Harold don't actually invent Captain Underpants until fourth grade, the two clever kindergartners are on their own -- using their brains to beat the bully.

Hold on to your UNDERPANTS -- the Captain is back!
About the Author
DAV PILKEY is the creator of many acclaimed children's books, including Dogzilla, Kat Kong, god bless the gargoyles, and the bestselling Captain Underpants and Ricky Ricotta series. His picture book The Paperboy received a Caldecott Honor. He lives in the Pacific Northwest. www.pilkey.com
Praise For Captain Underpants and the Terrifying Return of Tippy Tinkletrousers…
The critics are CRAZY about UNDERPANTS!

"A triumph of irreverence." --NEWSWEEK

"Call Pilkey . . . the savior of the 'reluctant reader.' " --USA TODAY

"For every downtrodden fun-seeking kid who never wanted to read a book." --SCHOOL LIBRARY JOURNAL

"Subversively hilarious." --PUBLISHERS WEEKLY

"Celebrates the triumph of the good-hearted." --The Educational Book and Media Association

"It'll make kids laugh until soda comes out of their noses." --BULLETIN OF THE CENTER FOR CHILDREN'S BOOKS



PUBLISHERS WEEKLY – JULY 13, 2012
[STARRED REVIEW]
Captain Underpants and the Terrifying Return of Tippy Tinkletrousers
Dav Pilkey. Scholastic, $9.99 (304p) ISBN 978-0-545-17534-0
A toast of "non-alckaholick wine" to the ninth Captain Underpants novel—and to Dav Pilkey's refusal to coast. In fact, the title is something of a red herring since the true centerpiece of this installment is a lengthy flashback to "exactly five years, eleven days, fourteen hours, and six minutes ago," when mopey kindergartner Harold Hutchins first met precocious George Beard, who sports an awesome Afro instead of his usual flattop.
The boys face a nasty nemesis in the form of Kipper Krupp, the bullying sixth-grade nephew of Principal Krupp, but since Principal Krupp is years away from becoming the world's greatest superhero, it's up to the boys to defeat Kipper on their own. Their intricate and ingenious plan incorporates (and this is a short list) locker sabotage, fear of the paranormal, cheerleaders, pizza deliveries, a huge pair of pants, and the creation of the seminal comic "The Advenchers of Dogman." Pilkey dials back the toilet humor considerably, but plenty of naughtiness is still afoot (there's an extended riff on the hilarity of turning a "Brake Inspection" sign into "Bra Inspection"), and egregious misspellings abound. Supa! Ages 7–up. (Aug.)
Reviewed on: 07/13/2012
Permalink: http://www.publishersweekly.com/978-0-545-17534-0 (978-0-545-17534-0)