Gus Makes a Gift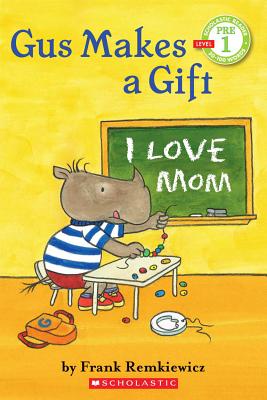 Gus Makes a Gift
Cartwheel Books, Paperback, 9780545244695, 24pp.
Publication Date: April 2012
* Individual store prices may vary.
Buy Now
or
Shop Local
Enter your zip code below to purchase from an indie close to you.
Description
From the bestselling illustrator of the FROGGY picture books.

It's Mother's Day, and Gus has a great idea. During art time at school, he'll make Mom a special present. But things don't go exactly as he plans. Will Mom like Gus's gift?

This sweet, simple Pre-Level 1 story takes brand-new readers on an adventure with lovable rhino Gus.
About the Author
Frank Remkiewicz illustrated the MathStart Books Rabbit's Pajama Party and Just Enough Carrots. He lives in Sarasota, FL. In His Own Words...
"I was the kind of kid who was always reading or drawing. Since I was drawing well before I started school, I always considered art to have seniority over the likes of long division and medieval history. This attitude got me into difficulties more than once. My favorite subjects were horses, cartoons, wildlife, and contraptions that rolled, floated, tooted, or flew. My heroes of the day were illustrators like Bill Peet, Robert Lawson, and Kurt Weiss. They provided me with a screenful of imagery that I'll never forget.
"Winter in kindergarten found us all painting Santas at our tables. Mine came out so good that I was asked to do it over again on a huge piece of brown paper that covered the chalkboard. Santa would be bigger than me. I was excused from the regular stuff, given larger brushes, more paint-and sure enough, here came Santa. This was only the beginning. Other teachers, seeing the mural-sized figure, 'borrowed' me to do the same for first- and second-grade classrooms. Flattered but somewhat embarrassed, I took heart, since these gigs were getting me out of a lot of tedious activities like nap time, scissors, yarn, and flash cards. 'All I ever needed to know, I learned in kindergarten' may be true. Twenty years later I found myself on Madison Avenue at Norcross Greeting Cards-yes, drawing Santa Claus.
"I've always been drawn to the field of humor. Since I'm writing and illustrating my own stories now, I try to make them funny in an outrageous or off-the-wall way. During classroom presentations, I again find myself by the chalkboard in front of the kids. Now we are seeking ways to write and draw those ideas that squeeze their way through the everyday chores of our minds. It's a thrill to watch my own book being read by a group of children, and I like it when they smile. But I love it when they laugh."