Ocean Sunlight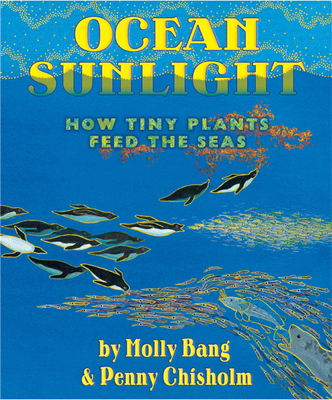 Ocean Sunlight
How Tiny Plants Feed the Seas
Blue Sky Press (AZ), Hardcover, 9780545273220, 1pp.
Publication Date: May 1, 2012
* Individual store prices may vary.
Buy Now
or
Shop Local
Enter your zip code below to purchase from an indie close to you.
Description
Acclaimed Caldecott artist Molly Bang paints a stunning, sweeping view of our ever-changing oceans.

In this timely book, award-winner Molly Bang uses her signature poetic language and dazzling illustrations to introduce the oceanic world. From tiny aquatic plants to the biggest whale or fish, Bang presents a moving, living picture of the miraculous balance sustaining each life cycle and food chain deep within our wondrous oceans.

On land or in the deep blue sea, we are all connected--and we are all a part of a grand living landscape. Packed with clear, simple science, this informative, joyous book will help children understand and celebrate the astonishing role our oceans play in human life.
About the Author
Molly Bang lives in Falmouth, Massachusetts.


Praise For Ocean Sunlight…
Praise for LIVING SUNLIGHT: HOW PLANTS BRING THE EARTH TO LIFE:
* "If a good picture book does what it sets out to do, a great one sets out to do something huge and succeeds. . . . An outstanding book to read and absorb."--BOOKLIST, starred review
- "Chisholm, a professor of ecology, expands on the theme [photosynthesis], while the intense greens of Bang's gouaches bring it vibrantly to life."--THE NEW YORK TIMES BOOK REVIEW
- "LIVING SUNLIGHT is less a tutorial on photosynthesis than a magnificent celebration of life."--NATURAL HISTORY
Praise for MY LIGHT:
* "A lovely and illuminating book that presents sound science while expressing the wonder of flipping a switch and flooding a room with light."--BOOKLIST, starred review
- "Bang's imagery and word choice provide a vivid text for her readers. And then there are the illustrations: phenomenal only begins to explain Bang's choices in her use of color and composition. . . . This is a picture book that should be found in all libraries."--CHILDREN'S LITERATURE