Blue Sky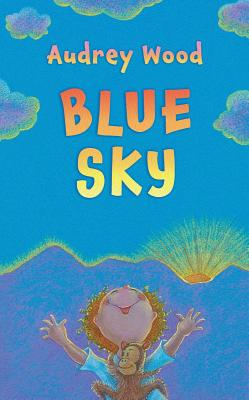 Blue Sky
Blue Sky Press (AZ), Hardcover, 9780545316101, 32pp.
Publication Date: March 2012
* Individual store prices may vary.
Shop Local
Enter your zip code below to find indies closest to you.
Description
Bestselling author/illustrator Audrey Wood uses simple words and stunning art to celebrate the ever-changing sky.

In Audrey Wood's bright, new concept book, a child and his family experience the fun of a sunny-sky day at the beach, then the electricity of a thunder-storm sky, and finally the magical delight of a rainbow sky. After the night sky fills up with stars, readers will be soothed by the pleasure of wishing on a star.
Using only two words per page-"Blue Sky" "Cloud Sky" "Storm Sky"-Wood's enthusiastic playfulness will encourage young readers to make up their own simple descriptions of the sky above.
Years ago, a teacher told Audrey how rarely her young students looked up. She asked them to begin watching the sky every day and keeping sky journals. They loved it! And soon that teacher saw great improvement in their learning, observing, and test-taking skills.
Beautiful, joyful, and educational, BLUE SKY invites us all to be creative in the way we engage with the world--all the ingredients that have made Audrey Wood's books popular and timeless among readers young and old.
About the Author
Audrey Woodis the author of many books for children, including the bestselling The Napping House, Piggies, Caldecott Honor Book King Bidgood's in the Bathtub, Heckedy Peg, and Piggy Pie Po, all of which were illustrated by her husband, Don Wood. The Woods divide theirtime between California and Hawaii.
Praise For Blue Sky…
ALPHABET ADVENTURE:
"This unusual alphabet book boasts not only a clever, original, and engaging story but also lavish, computer-generated pictures by the author's son."--Booklist
A DOG NEEDS A BONE:
"Filled with child appeal, it's sure to be a winner."--School Library Journal
"...from endpapers to endpapers, a most satisfying well-earned bone."--Kirkus Reviews
TEN LITTLE FISH:
"The circular story and the bouncing rhymes, which create just the right suspense with each page turn, will encourage preschoolers to gleefully chant along."--Booklist
"The holistic story bubbles with life's endless cycle."--Kirkus Reviews
THE DEEP BLUE SEA: A BOOK OF COLORS:
"uncluttered spreads, brilliant colors, and tropical setting, populated with a few winsome creatures, will draw toddlers who are beginning to tackle the basics."--Booklist
ALPHABET MYSTERY:
"Visual and verbal puns add to the fun of learning the alphabet."--Booklist
KING BIDGOOD'S IN THE BATHTUB:
A Caldecott Honor Book
THE NAPPING HOUSE:
A NEW YORK TIMES Best Illustrated Book of the Year; a Golden Kite Award winner


This simple concept book explores the various and ever-changing types of sky, with each spread offering a different characterization ("Blue sky"; "Rain sky"; "Sunset sky"; etc.) and bringing it vividly to life in the oil pastel illustrations. The sequence follows the course of a day, beginning with the titular blue sky and ending with dawn of the following day ("New sky"). The book emphasizes the changeability of the sky, with one spread depicting a midday "sun sky" ablaze in bright yellow, the following ("Sunset sky") bathed in deep orange, and the next ("Dark sky") awash in deep purple. The illustrations provide young listeners (and even burgeoning readers) with lots of visual impetus to guess what word is used for each sky shot. Additionally, the book offers a tacit encouragement for kids to pay attention to the world around them, a practice exemplified by the recurring figure of a boy with a toy monkey, who quietly observes the sky in each spread. This provides plenty of opportunity to initiate discussion about types of sky and perhaps to call on young people to add other types to the list, either with words or compositions of their own, and even to branch out into their own descriptive projects. - Bulletin of the Center for Children's Books – April 2012

Renowned author-illustrator Wood extends a simple, sparely worded invitation to do something that many of us in our busy lives rarely do: look up. A series of two-page spreads feature a curly-haired boy, his family, and the boy's stuffed monkey enjoying an incredible variety of dramatic skyscapes throughout the day and night, from a pristine azure sky to a spate of menacing storm clouds to a spectacular night scene of untold twinkling stars. In between are rainbows, a vibrant-orange sunset, and a smiling full moon. Each sweeping scene features a two-word description ("sun sky"; "dark sky"), the only text in the book, cleverly worked into the illustrations. Wood's colored-pencil-on-colored-paper technique is skillfully applied, but a few illustrations have less contrast and lack some of the vibrant punch of others. A compelling introduction for children—and an equally compelling reminder for the adults in their lives—to enjoy the everyday marvels of nature. — Kristen McKulski, Booklist, March 1, 2012


Proving once again that picture books don't have to be complex or painterly to succeed, Wood (author of The Napping House) here presents a succession of double-page spreads showing skies, from "blue sky" to "sunset sky" to "moon sky"—and ends the book with a beginning: "new sky." The spreads are held together by a story (told in pictures) featuring a small boy and his toy monkey. The boy—easily recognizable because of his mop of curly red hair—and his family wait out a storm ("rain sky") and then head to the beach, enjoying their day by the shore all the way through "star sky." In each spread, the words are incorporated into the pastel art, so that the letters of "rain sky" drip; the letters of "storm sky" are as jagged as lightning; the letters on the quite glorious spread "star sky" are made up of twinkling points of light; etc. The progression through the day makes for a satisfying journey and a nifty bedtime story. Pre-readers will enjoy the range of palettes and scenes and the game of spot-the-monkey; brand-new readers will find many helpful clues (even the more abstract "wish sky" is easily guessed thanks to the shooting star outside the boy's bedroom window). Wood's fresh, clever picture book may even inspire children to come up with their own ideas for skies: see suggestions on back cover. - Martha V. Parravano, Horn Book - March/April 2012


This tall, narrow picture book relates what could be a single day in the life of a family through a sequence of pages focused not on the figures, but on the sky above them. A "blue sky" changes to a "storm sky," "rainbow sky," "sunset sky," etc., and finally a "dream sky" as the family enjoys a trip to the beach and the progression of the day from morning to night. On the bottom of each spread, a child with wild, curly hair and a stuffed monkey companion dreamily gaze at the heavenly changes taking place. The only text is the two-word description of each skyscape, cleverly drawn in Wood's vibrant pastel illustrations. Color tones range from cool blues, purples, and grays to fiery yellows and oranges depending on the time of day depicted, while figures appear in everything from full-color renderings to shadowy silhouettes. With its simple text and large imagery, this book is an excellent choice for storytimes. Suggest it also to preschool teachers seeking materials for weather, time, or nature units.–Jayne Damron, Farmington Community Library, MI, School Library Journal - February 2012
A curly-haired boy, his family, and his friends cast their gazes upward in this vibrant celebration of the ever-changing sky. The only text Wood (Piggy Pie Po) uses are two-word labels for the variations of sky they see, recalling the recent The Quiet Book in concept if not execution. The letters forming "cloud sky" are shaped like the surrounding puffy clouds, "rain sky" drips down as the boy holds out his hand, and the words "star sky" appear as a dense constellation in a sky crowded with stars. There's an extreme quality to several of the scenes: a triple rainbow (what does it mean?) appears in the "rainbow sky" spread, and the sun blazes yellow and orange in beachy scenarios dedicated to "sun sky" and "sunset sky." Wood leaves readers with a touch of whimsy, with the boy seen flying through a "dream sky" that incorporates elements of the skyscapes viewed earlier. The only thing understated about this bedtime read-aloud is the prose, but it's more than likely to have children heading to the windows to check (and name) the current state of the sky. All ages. Publisher's Weekly 01/20/2012