Geeks, Girls, and Secret Identities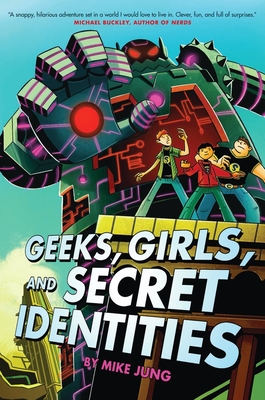 Geeks, Girls, and Secret Identities
Arthur A. Levine Books, Hardcover, 9780545335485, 307pp.
Publication Date: October 2012
* Individual store prices may vary.
Shop Local
Enter your zip code below to find indies closest to you.
Description
A SUPER funny, SUPER fast-paced, SUPER debut!

Vincent Wu is Captain Stupendous's No. 1 Fan, but even he has to admit that Captain Stupendous has been a little off lately. During Professor Mayhem's latest attack, Captain Stupendous barely made it out alive - although he did manage to save Vincent from a giant monster robot. It's Vincent's dream come true... until he finds out Captain Stupendous's secret identity: It's Polly Winnicott-Lee, the girl Vincent happens to have a crush on.

Captain Stupendous's powers were recently transferred to Polly in a fluke accident, and so while she has all of his super strength and super speed, she doesn't know how to use them, and she definitely doesn't know all the strengths and weaknesses of his many nemeses. But Vincent and his friends are just the right fan club to train up their favorite superhero before he (she?) has to face Professor Mayhem again. And if they make it through this battle for the safety of Copperplate City, Vincent might just get up the courage to ask Polly on a date.
About the Author


David Luis Sanhueza is a graduate from the Animation Program at Northeastern University. David's big dream project is Game-O-Gami, his independent game development studio. His first published title is the critically-acclaimed "Goblins Drool, Fairies Rule!" card game. He is currently hard at work developing new games, including "Immortal," "Turtle Panic," and "Final Destinations." In addition to creating games and artwork, David enjoys finding ways to give back to his community... wherever that may be at the time. An American citizen, he has had the honor of living, studying, and teaching in several other countries, including Chile, Brazil, India, Germany, and Japan. Volunteer work often accompanies his travels. He has served with Habitat for Humanity, City Year, Tong-Len, and Volunteer Tibet. David currently lives in sunny Las Vegas, Nevada. Mike Maihack is a graduate from the Columbus College of Art and Design. He spends his time drawing pictures of cats, superheroes, space girls or just about anything else he can think of that might involve rayguns or serving tea. He once organized a Christian comic anthology called "Parable," drew an all-ages web comic called "Cow & Buffalo," and was (or still is) a member of many online collectives such as Lunchbox Funnies, Spacedock 7, and Bristolwhip. He has also contributed art and stories to books like "Jim Henson's The Storyteller," "Cow Boy," "Geeks Girls and Secret Identities," and the award winning "Comic Book Tattoo." Currently though, Mike is hard at work bringing his sci-fi epic, "Cleopatra in Space," to life as part of Scholastic's Graphix line of graphic novels... all while watching not quite as many movies as he used to with his wife, son, and two Siamese cats in the far too hot and humid climate that is Tampa, Florida.