The Boy Project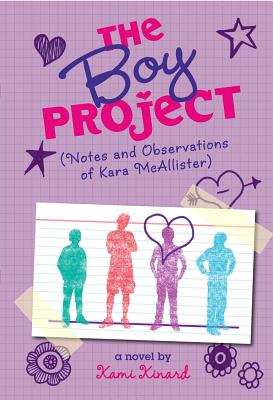 The Boy Project
Notes and Observations of Kara McAllister
Scholastic Press, Hardcover, 9780545345156, 253pp.
Publication Date: January 2012
* Individual store prices may vary.
Buy Now
or
Shop Local
Enter your zip code below to purchase from an indie close to you.
Description
For anyone who's ever felt that boys were a different species....



Wildly creative seventh grader Kara McAllister just had her best idea yet. She's going to take notes on all of the boys in her grade (and a few elsewhere) in order to answer a seemingly simple question: How can she get a boyfriend?

But Kara's project turns out to be a lot more complicated than she imagined. Soon there are secrets, lies, and an embarrassing incident in the boy's bathroom. Plus, Kara has to deal with mean girls, her slightly spacey BFF, and some surprising uses for duct tape. Still, if Kara's research leads her to the right boy, everything may just be worth it. . . .

Full of charts and graphs, heart and humor, this hilarious debut will resonate with tweens everywhere.
Praise For The Boy Project…
Looking for a boyfriend takes on a whole new meaning when 14-year-old Kara starts her research project.

Kara, a self-proclaimed geek, decides to find a boyfriend using the scientific method.  This initially involves covert observation of her subject: boys. She keeps detailed index cards, and the novel is decorated with her charts, graphs and lists. The project eventually becomes a science-fair project that also utilizes Facebook for a love survey. When her best friend Tabbi gets a boyfriend first, unfortunately with Kara\u2019s crush, it takes Kara some time to remember that she needs her best friend more than a she needs a boyfriend. This middle-school drama is hip to the moment, with break-up texting, kissing and popularity tug of wars. The boy obsession becomes tiresome, but Kara\u2019s irrepressible spirit, clever wit and introspection save this story from vapidity Kara\u2019s hilarious observations, as when she compares feigning happiness to the difficulty of fastening the, like, 15 hooks of her 87-year-old grandma\u2019s bra, keep it buoyant. As she becomes increasingly discerning, Kara realizes that being true to oneself is the coolest asset.

Kara\u2019s boy-crazy experiment lends refreshing perspective on teen relationships, and the results point to self-enlightenment. (Fiction. 10-13)

-Kirkus Reviews - October 15, 2011



Kinard\u2019s first novel reads a bit like Field Notes of a Romantically Frustrated Kid. Her sympathetic, entertaining heroine, Kara McAllister, dismayed at not having been kissed by age 13, is determined to use the scientific method to get a boyfriend: \u201cI\u2019ll be the eighth-grade version of Jane Goodall, except I\u2019ll be observing boys instead of chimps. Not that there\u2019s a huge difference.\u201d Her goal is twofold: win the science fair with this project and achieve her other objective—unlimited texting, promised by her parents in return for an A in science. Unobtrusive observations, note taking, charts, graphs, and questionnaires (incorporated throughout) are all part of her plan, which has humorous and unexpected side effects as her views of, and feelings for, her subjects shift during the course of her research. Kinard creates a highly credible middle-school universe of popular girls, dorky boys, unpredictable teachers, and volatile loyalties; she hits all the right notes as Kara learns that first opinions are rarely accurate and that the scientific method does not always apply to human beings. Ages 9–12. Agent: Stimola Literary Studio. (Jan.)

-Publisher's Weekly, December 5, 2011