The City of Death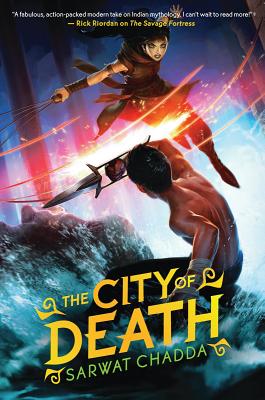 The City of Death
Arthur A. Levine Books, Hardcover, 9780545385183, 336pp.
Publication Date: October 29, 2013
* Individual store prices may vary.
Buy Now
or
Shop Local
Enter your zip code below to purchase from an indie close to you.
Description
"A fabulous, action-packed modern take on Indian mythology. I can't wait to read more " -- Rick Riordan, author of the Percy Jackson series, on THE SAVAGE FORTRESS
Ash escaped THE SAVAGE FORTRESS . . . but can he survive THE CITY OF DEATH?
Meet Ash Mistry: eighth grader, pretty good video gamer, guy with a massive crush on the beautiful Gemma . . .
Oh, and the Eternal Warrior of the death goddess Kali.
Just when Ash has settled back into his everyday London life, his friend Parvati arrives with a mission: The evil Lord Alexander Savage is plotting to steal the Koh-I-Noor diamond from England's crown jewels. Ash and Parvati manage to intercept it, but at a terrible price-Gemma's death.
Outcast and heartbroken, Ash returns with Parvati to India, where he meets up with old friends and develops new powers. But he's haunted by Gemma, by thoughts of revenge against Savage, and by horrifying, blood-soaked dreams. As he hunts Savage all the way to an astonishing, long-hidden kingdom, Ash must face the prospect that he may no longer be entirely human . . . and his warrior side may lie beyond his control.

About the Author
Sarwat Chadda was brought up a Muslim but is married to a minister s daughter. He says his home life curiously reflects the ongoing conflict between Islam and Christianity, especially when it comes to whose turn it is to do the dishes. He was brought up on stories of Saladin, Richard the Lion-heart and the Crusades, viewed from both sides, and cut his authorial teeth writing his own role-playing scenarios. He is an engineer who has worked on some of the biggest projects in the world, but now lives in London with his family.