A Mutiny in Time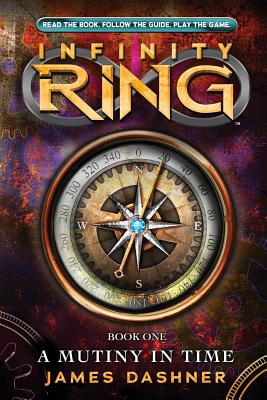 A Mutiny in Time
Scholastic, Hardcover, 9780545386968, 190pp.
Publication Date: August 28, 2012
* Individual store prices may vary.
Buy Now
or
Shop Local
Enter your zip code below to purchase from an indie close to you.
Description
Scholastic's next multi-platform mega-event begins here
History is broken, and three kids must travel back in time to set it right
When best friends Dak Smyth and Sera Froste stumble upon the secret of time travel -- a hand-held device known as the Infinity Ring -- they're swept up in a centuries-long secret war for the fate of mankind. Recruited by the Hystorians, a secret society that dates back to Aristotle, the kids learn that history has gone disastrously off course.
Now it's up to Dak, Sera, and teenage Hystorian-in-training Riq to travel back in time to fix the Great Breaks . . . and to save Dak's missing parents while they're at it. First stop: Spain, 1492, where a sailor named Christopher Columbus is about to be thrown overboard in a deadly mutiny.
About the Author
James Dashner is the author of many children s fantasy series and adult books, including The 13th Reality series and the Jimmy Fincher Saga. Dashner currently lives in South Jordan City, Utah and is married with four children.