The Cracks in the Kingdom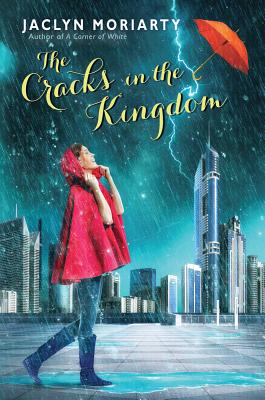 The Cracks in the Kingdom
Arthur A. Levine Books, Hardcover, 9780545397384, 468pp.
Publication Date: March 25, 2014
* Individual store prices may vary.
Buy Now
or
Shop Local
Enter your zip code below to purchase from an indie close to you.
Description
The second in Jaclyn Moriarty's brilliant, acclaimed fantasy trilogy, THE COLORS OF MADELEINE
Princess Ko's been bluffing about the mysterious absence of her father, desperately trying to keep the government running on her own. But if she can't get him back in a matter of weeks, the consequence may be a devastating war. So under the guise of a publicity stunt she gathers a group of teens -- each with a special ability -- from across the kingdom to crack the unsolvable case of the missing royals of Cello.
Chief among these is farm-boy heartthrob Elliot Baranski, more determined than ever to find his own father. And with the royal family trapped in the World with no memory of their former lives, Elliot's value to the Alliance is clear: He's the only one with a connection to the World, through his forbidden communications with Madeleine.
Through notes, letters, and late nights, Elliot and Madeleine must find a way to travel across worlds and bring missing loved ones home. The stakes are high, and the writing by turns hilarious and suspenseful, as only Jaclyn Moriarty can be.
About the Author
Jaclyn Moriarty's "Feeling Sorry for Celia" was nominated Best Book of the Year by the American Library Association, for YALSA s 2002 Quick Picks for Reluctant Young Readers, and for the 2002 Colorado Blue Spruce Young Adult Book Award. Jaclyn Moriarty lives in Sydney, Australia, where she works as a media and entertainment lawyer.